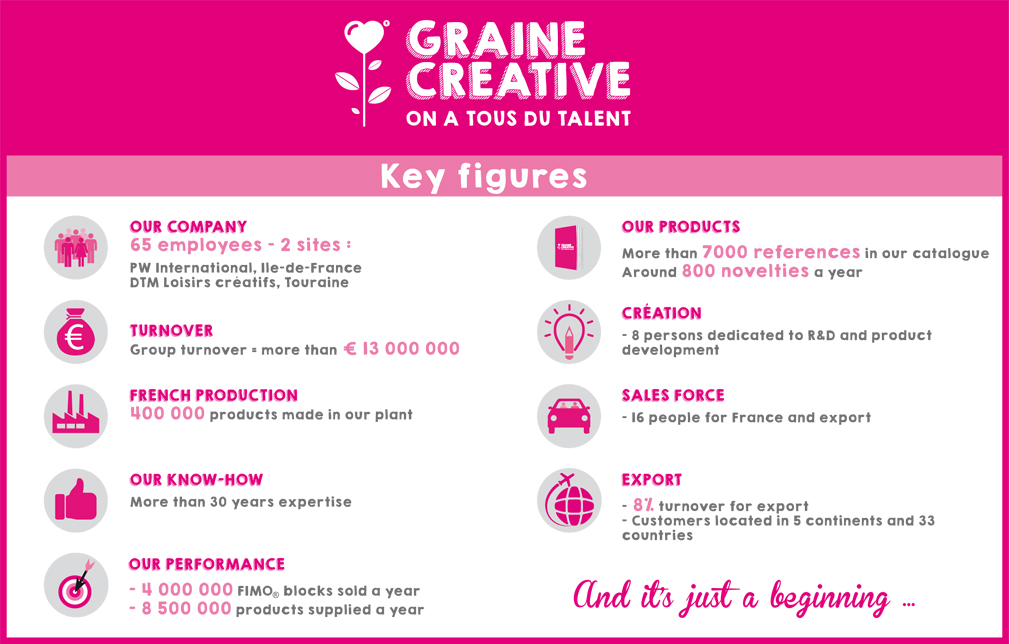 We want to surprise you, astonish you, inspire you and help you to create wonderful projects with simple and innovative products. Our mission is to democratize creative crafts for all: whether you are creator of a day or passionate every day, we can all create something with our hands … At Graine Creative®, we firmly believe that "we all have talent."
Many trendy products
Thus, we create and develop many products for professionals.
Each year, we develop more than 800 novelties to follow closely all trends.
Over 7,000 products will stimulate your creativity and allow you to illustrate your skills in many activities: modeling, decoration, tape, customization, jewelry, paint and varnish, stencils, masks, make-up, paper, stamps, kits, wood or cards, magnets, craft, creative card making, shrink plastic, soaps or candle.
A French production 
We are also strongly attached to our production site in Touraine where we daily produce in our workshops products that will decorate tomorrow your homes or entertain your children.
We package our kits in France to be more reactive and we produce masks by the process of thermoforming, stamps for creative cards through the vulcanization process, soaps and candles cast handmade and therefore unique, stencils with a laser cutting … All a know-how to preserve!
We also have a team of designers and modellers who identify and create tomorrow's trend. It allows us to offer exclusive designs with shapes and colours in vogue, with an admirable responsiveness.
An expertise: the modelling
We have developed a real expertise in the modelling world: indeed, since ten years our group is the first official distributor of FIMO® in the world (the famous polymer clay!). We also offer a large range of complementary products: initiation kits, tools to sculpt, jewellery accessories, modelling books…
Our big network of fimo passionates is also a real asset to exchange about the many ways to improve our products. We are regularly working in partnership with creators to sell new books and explain new techniques.
Support tools for professionals
We purpose to provide our professional customers a personalized support with many skills at your service: a merchandising service (to study your establishment plans, a commercial service divided throughout France, and an export department for foreign customers.
Many communication tools are also available (creative tools, videos, hanging banners, thematic displays) to enhance the sale. But most of all, the customer service is our priority: always have an available stock and deliver quickly our orders.
Let's meet!
We'll be pleased to welcome professionals by appointment in our Showroom in Noisy Le Grand, near Paris, in order to show us our products.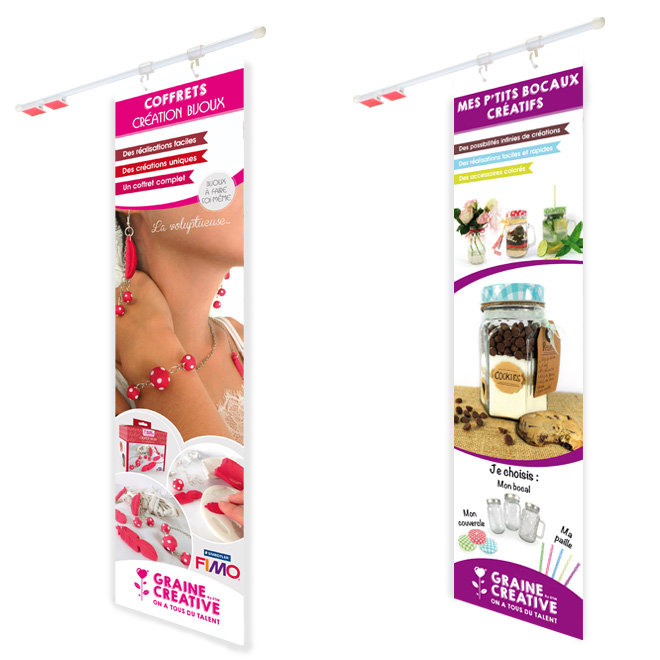 Back to top