From the advent calendar, to decorating my home, this year, Christmas will be creative!
Christmas decorations are always a source of inspiration for the creative. They like to receive, indulge with personalized gifts, but also decorate their interior! Graine Créative has therefore decided to accompany you this year during this wonderful period that is Christmas, for the decoration of your interior. Fill up some good ideas for your Christmas decoration, from the fir tree to the D-Day table. Not forgetting the crib or the famous Advent calendar to wait until Christmas Day. You have to play to make your Christmas decoration!
My Personalized Advent calendar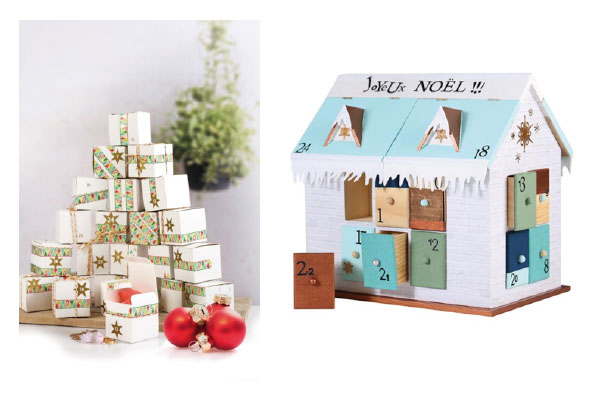 Why not make your own advent calendar 2018? Advent calendar in wood or soft cardboard? Graine Créative allows you to free your imagination in order to create the most beautiful calendars, and good news: there are for all tastes!!! We have selected for you 2 beautiful ideas that will inspire you to make your advent calendar. Making them is an easy and fun task for adults and children alike. Realize them alone or with the help of your little piece, and teach him the value of the objects that one realizes oneself!
Our first Advent calendar is a pyramid calendar, which is part of one of our customization kits. It consists of 24 cubes to decorate, a masking tape, 24 digits Peel Off's, and 10m of gold fantasy string.
The wooden advent calendars can be decorated with paint, masking tape, stickers.
My Christmas crib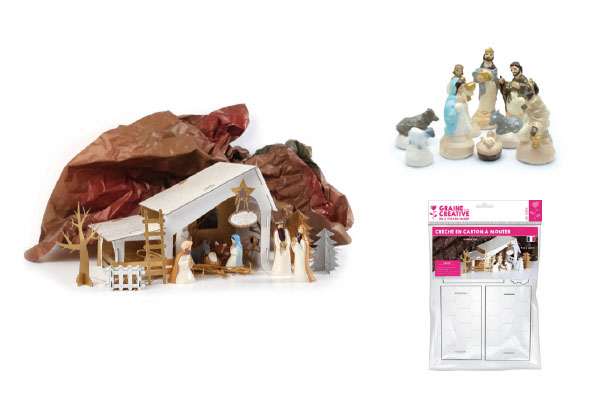 Decorating the crib is a must-have Christmas tradition to make with your family! Decorated in the smallest detail, this beautiful crib is made from a cardboard base forming the walls and the roof, to climb oneself. Then, Graine Creative proposes two differents models of Christmas crib figure to complete the crib: one more traditional, and the other more modern and minimalist.
Little tip: Have fun to decorate your crib with things to find in nature such as pebbles, Moss, branches, your crib will be more beautiful!
My Pretty custom Christmas table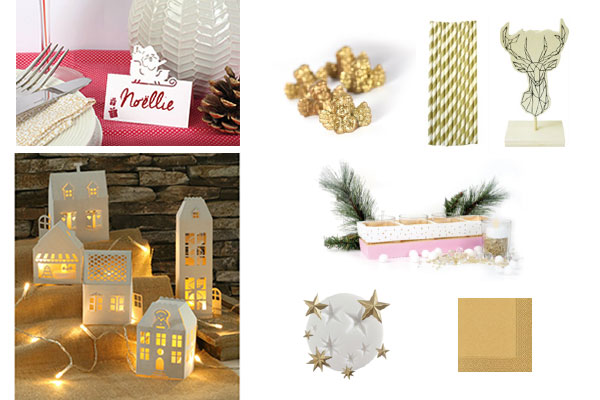 Creating a nice table decoration for Christmas is an art! Table Plan, menu, Mark-squares, table linen, crockery… Make a dream decor to receive your guests as it should be.
But what would Christmas be without its wonderful stars? To honor this idea, make your own sparkling stars with a special polymer clay mold and glitter-effect Fimo®, and decorate your home with these sumptuous decorations. They will come to finalize your table decoration beautifully!
A few other simple tricks, like a pretty verrines painted and decorated with masking tape or a personalized place brand, which can immediately create a festive and warm atmosphere. To illuminate your table, we offer our cottages in Kraft paper, embellished with light garlands, guaranteed cocooning effect!
My interiors decorations for a natural Christmas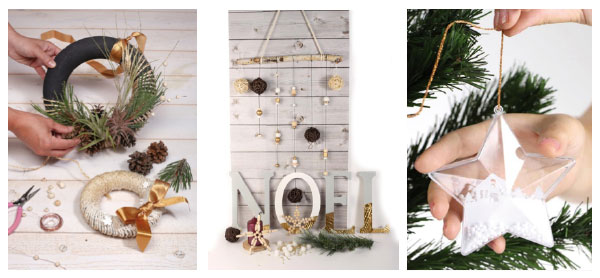 Why not combine this year's creativity and nature? This year the trend is at the recovery ' and at the DIY, which allows everyone to create at home a personalized Christmas decoration while giving free course to its creativity. The opportunity also to share moments with your children through DIY fun and simple to achieve. Twine, branches, wood, bread apples, beads, everything is allowed to create the most original decorations!
Adorning its front door with a Christmas wreath is a true tradition, you are then offered to make it using a polystyrene ring, branches of FIR, string, ribbon and paint.
To lay on your fireplace or on a table, the letters "Christmas" wooden are also customizable to infinity here, we opted for metal to repel, and paint with metal effect. The top mobile is composed of a branch of driftwood, sisal balls, painted wooden beads.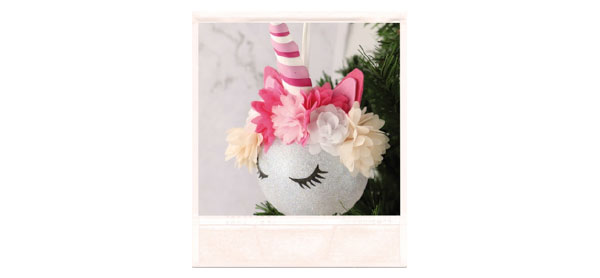 What about the tree? Find a selection at the Graine Créative of crystal Christmas balls with multiple shapes to personalize: gout, fir, Santa Claus, Snowman, Sphere, Hearts. On these crystal balls everything is possible: Paint, FIMO® to Accessorize, glitter, stickers, polystyrene balls to be placed inside for a snow effect… The possibilities are multiple!
Now it's time to wait until December to start the countdown before D-Day and take full advantage of these decorations. Good creations and most importantly, have fun! And if you realize one of these DIY do not hesitate to tag us on the networks, we love to discover your creations!
#OnaTousduTalent #grainecreative
*************
Try it, have fun, share and remember … we all have talent!
Graine Créative Seed is a specialist brand of creative leisure that innovates and surprises every day with new DIY ideas in the trend.
Ideas, inspiration, creations with Graine Creative on Facebook, Instagram, Pinterest.
The festive season is the right time to let your imagination speak and compose the decoration of your desires using handmade creations! Here's our favorite DIY gifts and decoration ideas for this winter !
As we are approaching Christmas… We love this time of enjoyment and chill. So get your favorite plaid, wake the chimney and let yourself get carried away by these inspirations to end the year on a high note!
#1 Celebrate Christmas with nature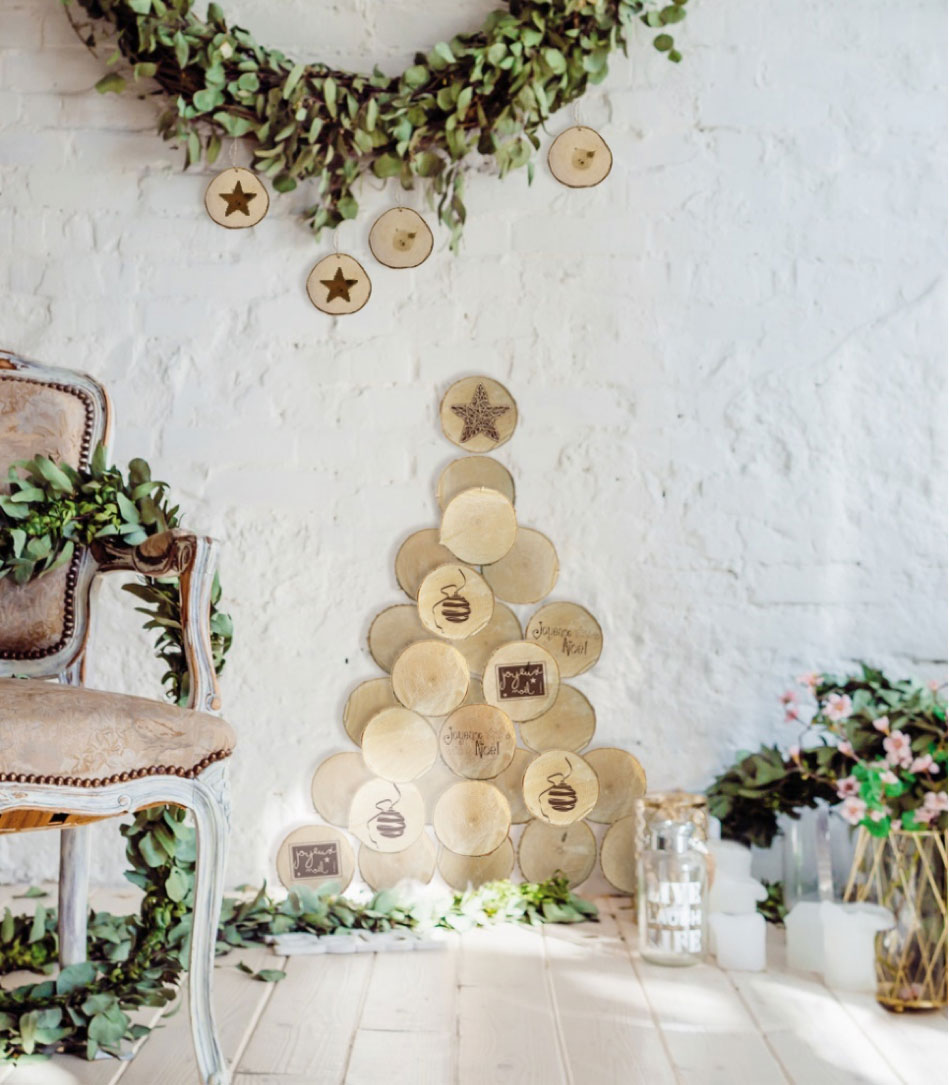 The natural materials bring tenderness to interior design. A beautiful Christmas DIY with wood washers decorated using pyrography. Here's a different Christmas tree! (ref. 107580, 107581)
#2 Shape a FIMO© Christmas tree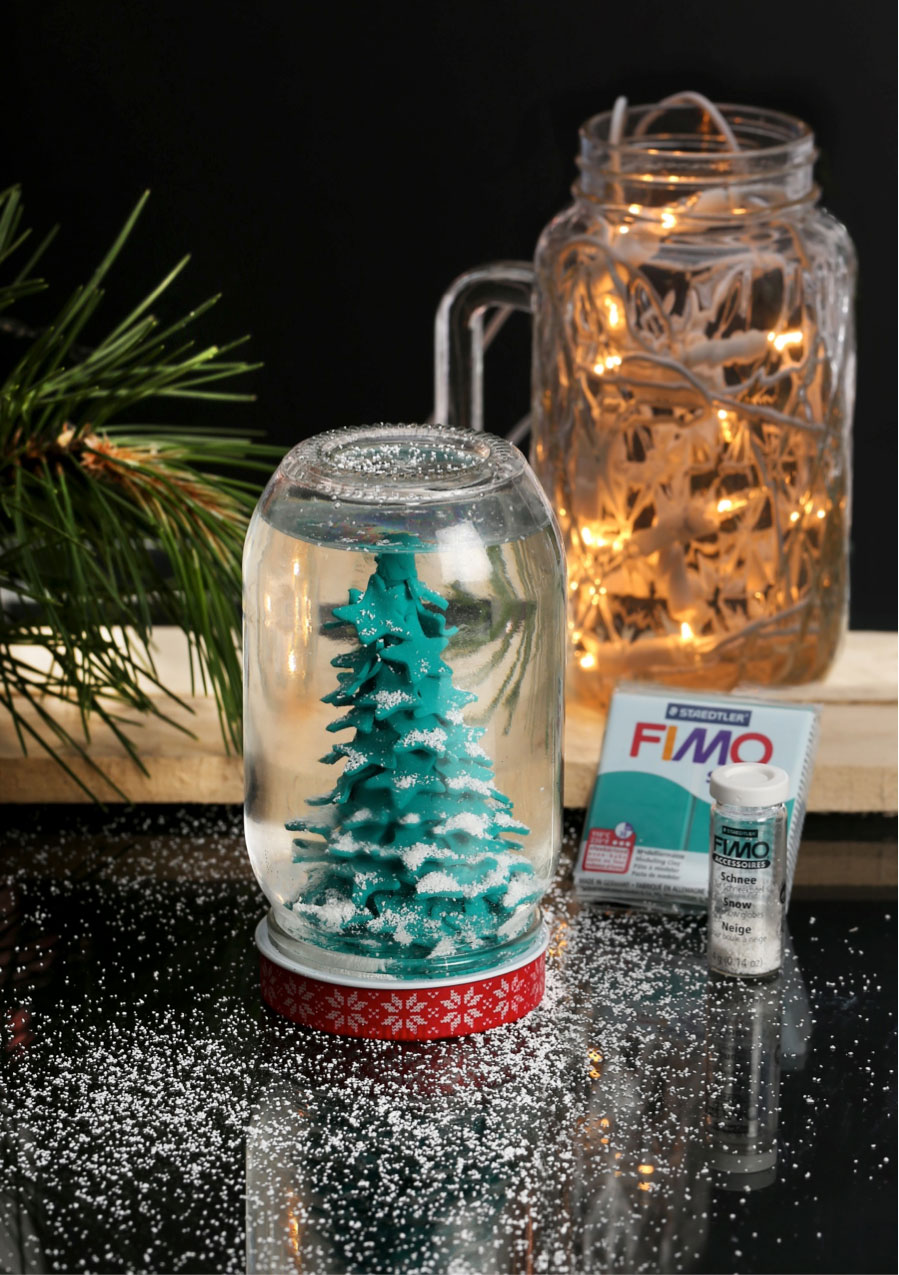 If your traditional Christmas tree feels a bit lonely, make him a miniature companion 100 % made of FIMO® clay. Take a little jar, add a little bit of FIMO© snow and it's done ! (réf. 263115, 168002)
#3 Create a hygge vibe with String Art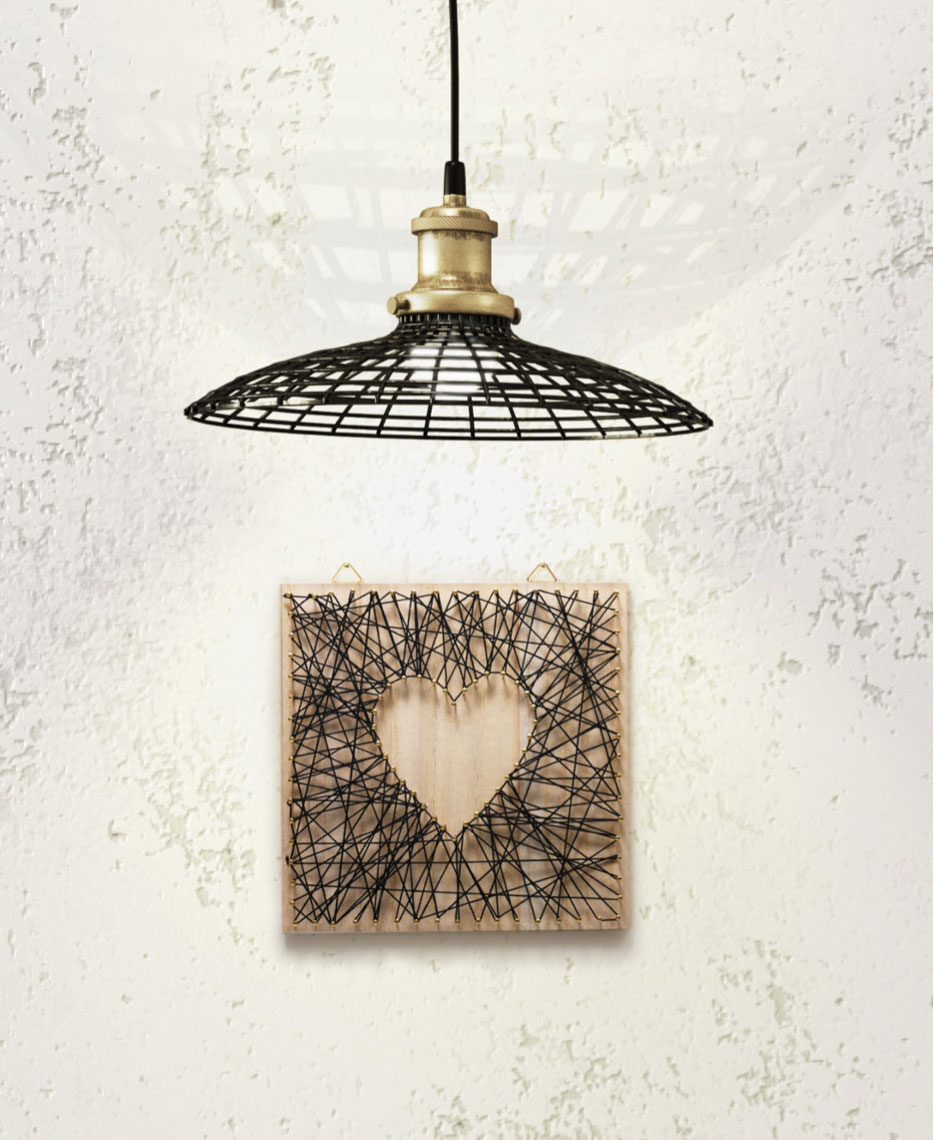 This DIY mixes creativity and nature. String Art is really simple! To get a cocooning decoration, you only have to stretch thread between a few nails. You can hang your creation on the wall to bring the best out of winter. Your decor is now ready! (ref. 100655)
#4 The Christmas crib, a nice tradition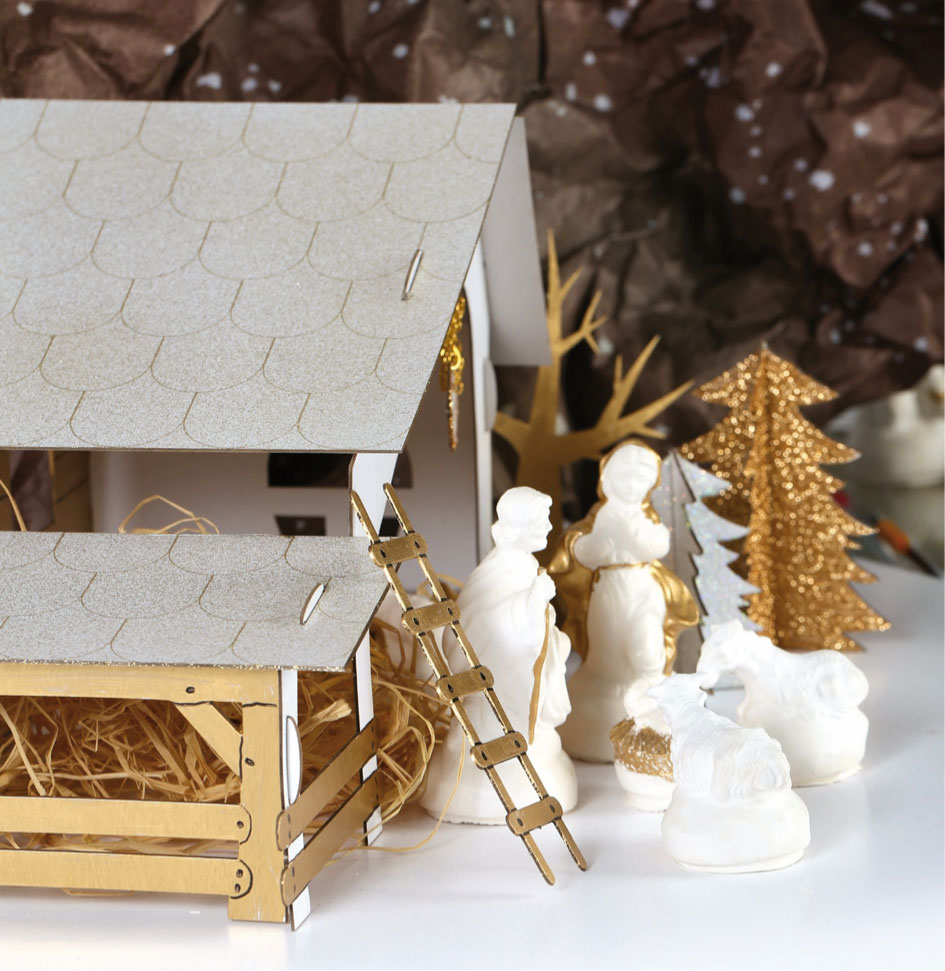 If you love setting up a Christmas crib, you still can build and customize this handmade crib. There's a thousand way to imagine this tradition before it's ready to welcome its little characters. (ref. 224322)
#5 Create your own Christmas balls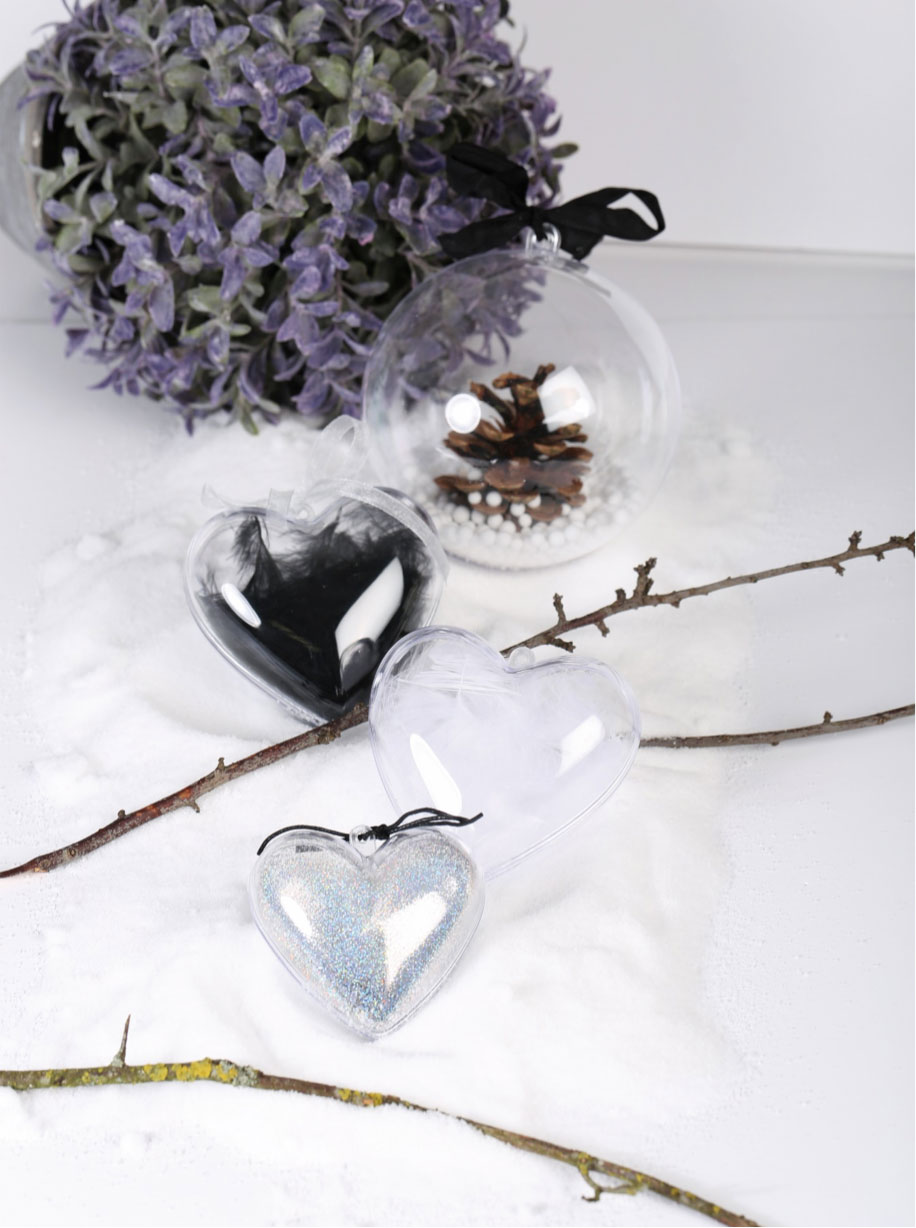 A nice alternative option to the classic Christmas balls. Customize some sheer Cristal balls with glitter and feathers to offer an authentic charm to your Christmas decoration.  (ref 579020, 579021)
#6 Embroider your cocooning interior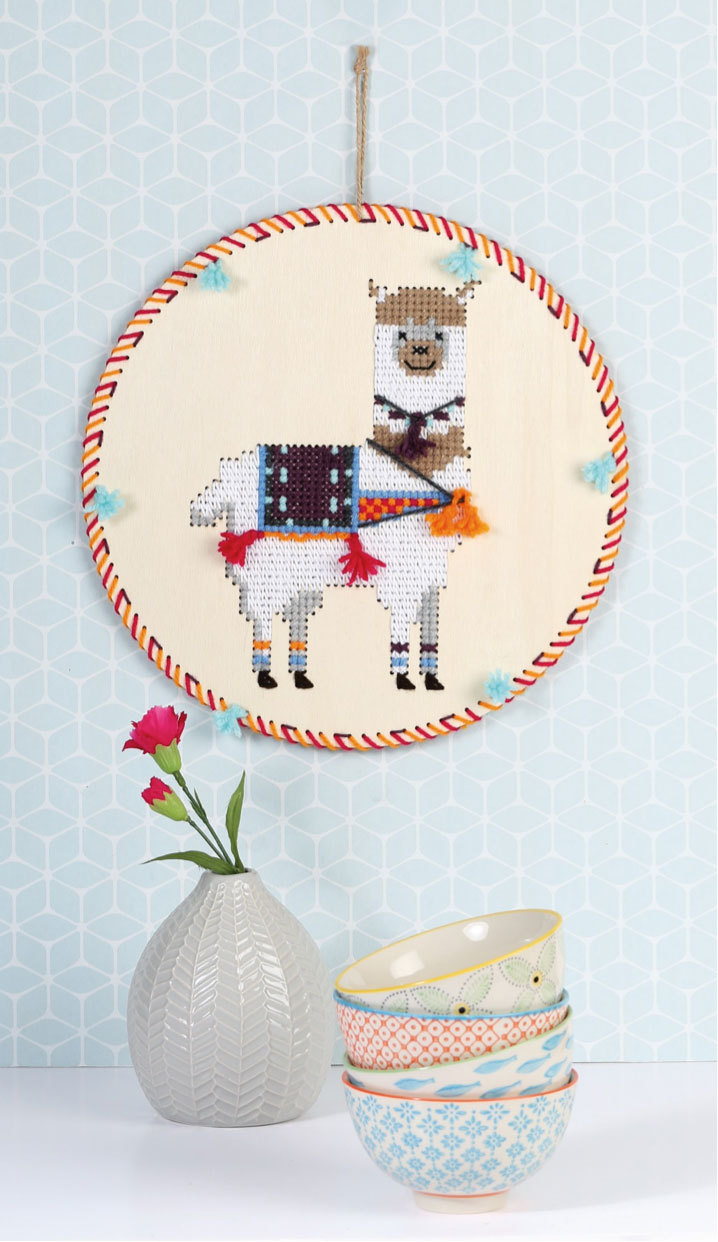 For Christmas decoration or the whole winter, the lama will warm your home to open a chill atmosphere! Pick your design and colors and then get started with this embroidery handiwork. Comfort and relaxation await you. (ref. 100678)
#7 Create a unique and gourmet Advent Calendar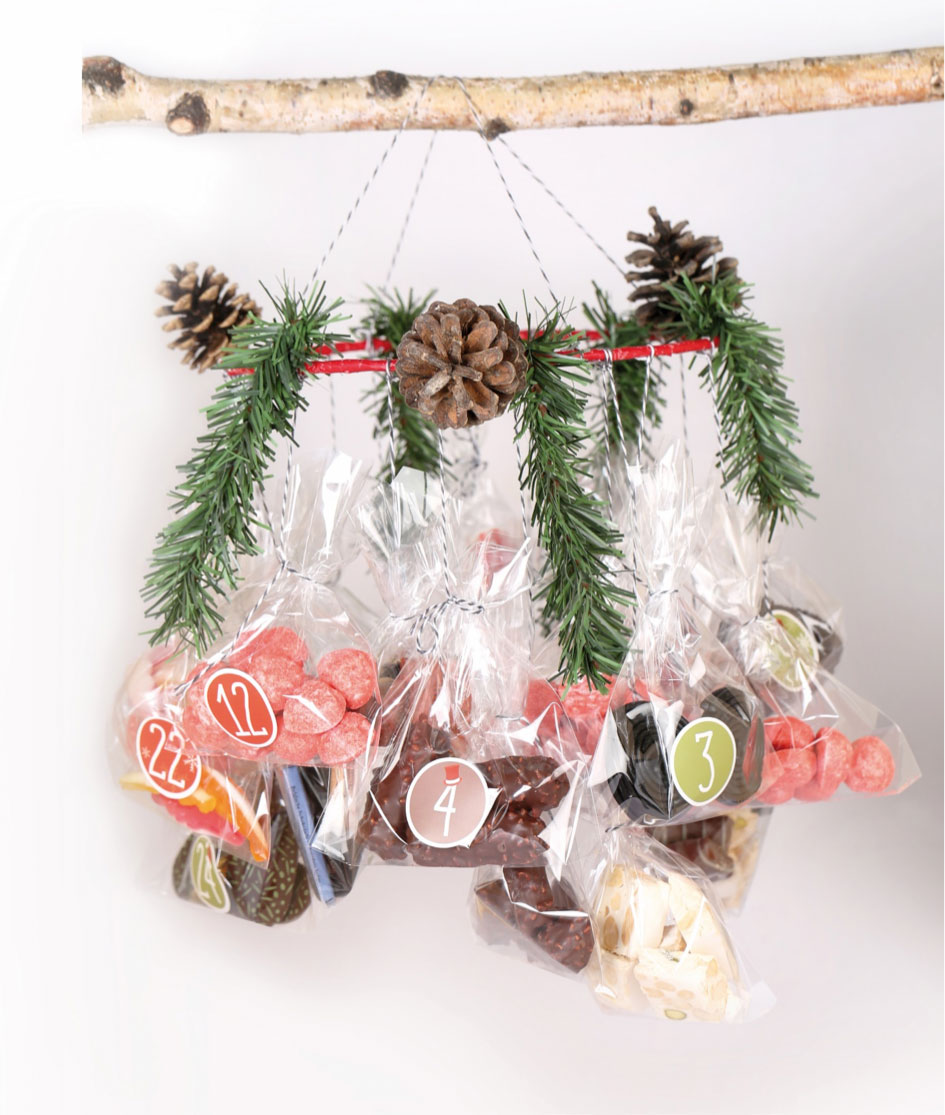 A few bags filled with your favorite treats can be a good start to a beautiful home feel.  Start the countdown to wait until Christmas Eve! (ref. 518240)
#8 Shape some high-flying FIMO® suspensions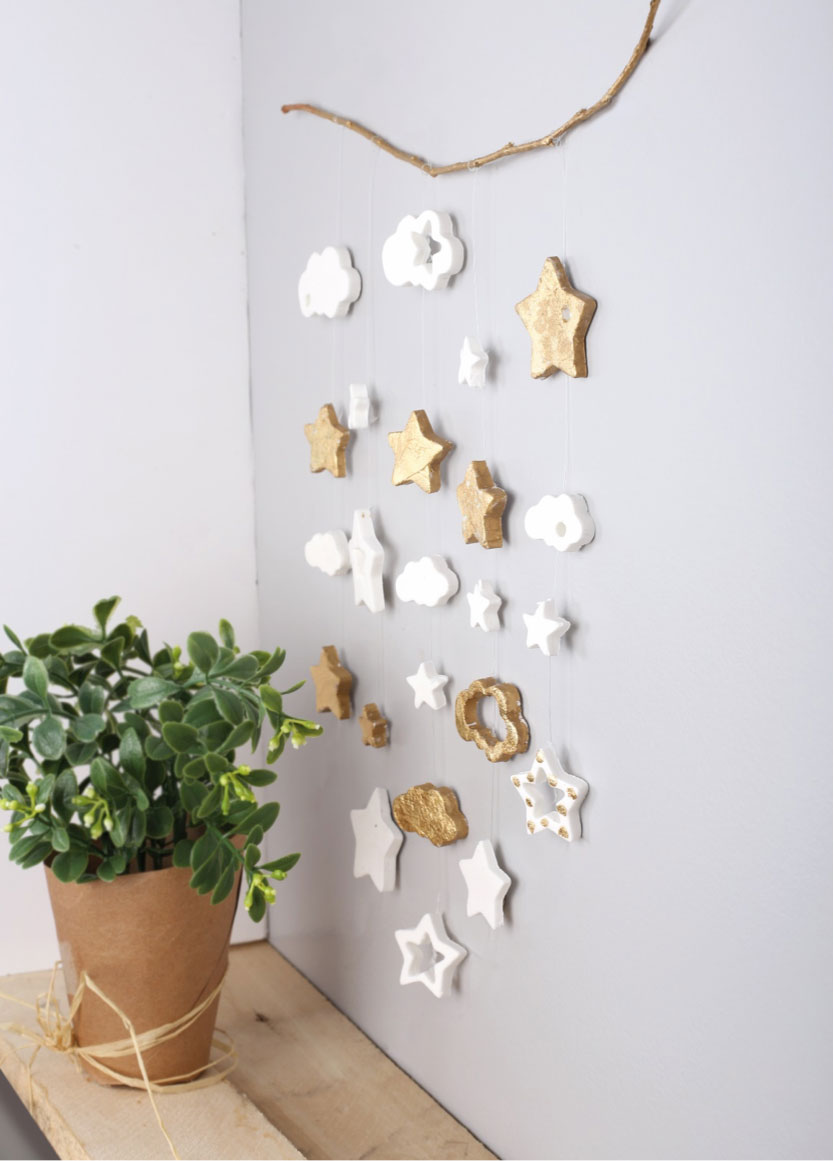 These bohemian-style shaped stars and clouds can be hung anywhere. On your Christmas tree or the window, for example, it brings a graceful and airy to your interior. (ref. 266253)
#9 Hang some hand-casted suspensions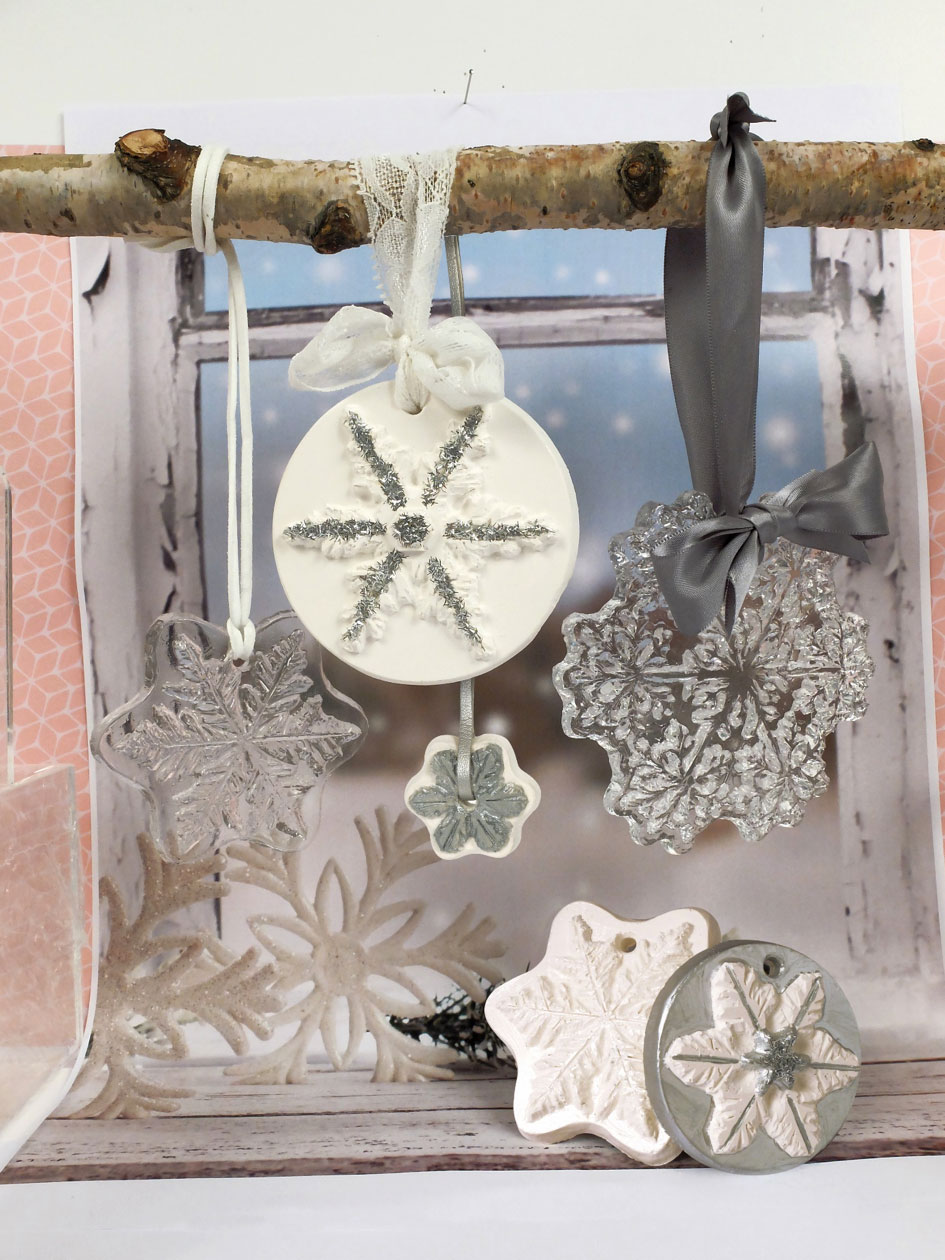 A fairy tale atmosphere takes hold of you thanks to these hand-casted Christmas decoration! First, pick your thermoformed mold (on this pic, flake – ref. 271301) suitable for plaster molding, cold ceramic powder, resin and… soap! For your home, this suspensions is the icing on the cake: Christmas magic happens!
#10 A nice table set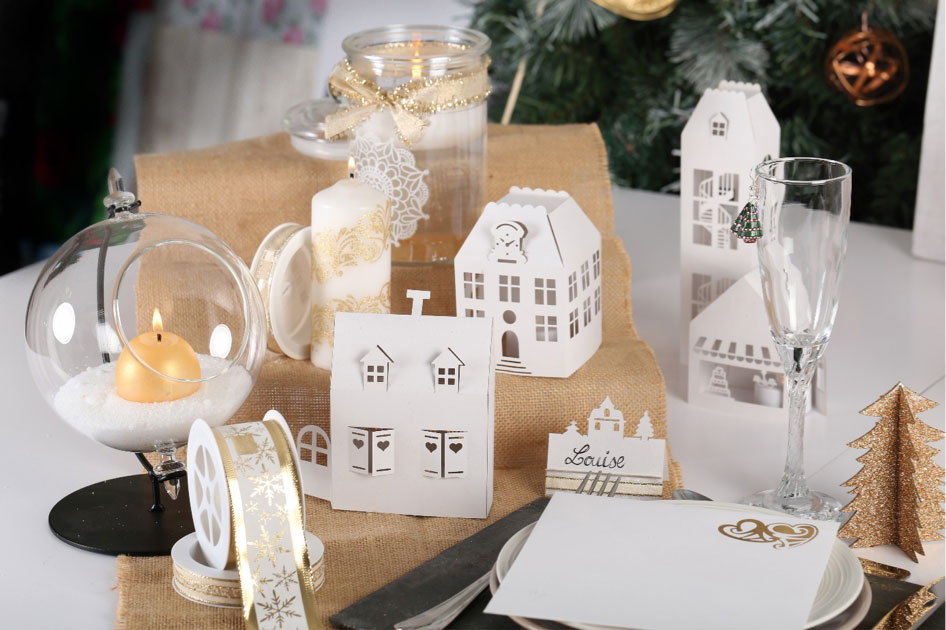 To brighten your Christmas Eve table, pull out your prettiest plates and welcome your guests in a shiny universe. The tiny houses and (ref. 224320) and place cards (ref. 224333) are precut for an easy montage and a chic result.
Find more DIY gifts and decoration ideas on Pinterest with the Graine Créative Christmas pinboard. Meanwhile, Graine Créative wishes you a Merry Christmas and a Happy New Year!
"Christmas is not a time nor a season, but a state of mind. "
Calvin Coolidge.