The patagom® boxes, the latest trend, and Graine Creative are in the spotlight in this report from the 12/45 of M6. In the company of his mom marilyne, mathis 9 years, participated in a workshop to manufacture gums using our patagom cabinets.
The replay of the report:  (video)
PATAGOM® ?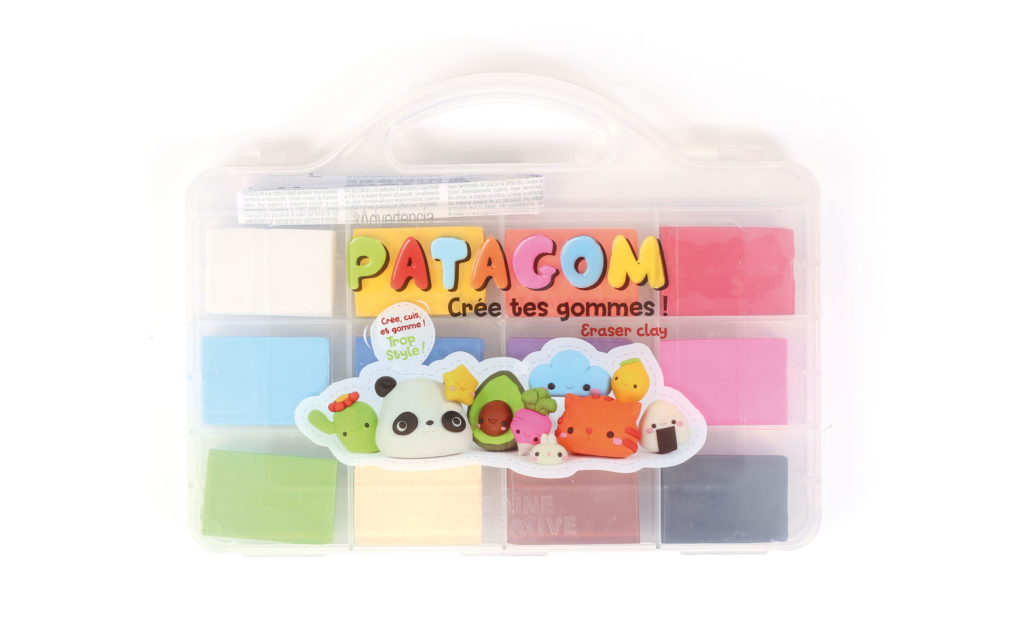 Creative Seed® reinvents traditional eraser clay by launching an unprecedented collection of boxes to make its own gums. Children choose their favorite colors and model the shape they want. Thanks to PATAGOM, they give life to cute and unique little companions! Here is a fun activity and conducive to the creativity of budding artists.
Each box is composed of an explanatory note and 6 colors miscible between them at infinity.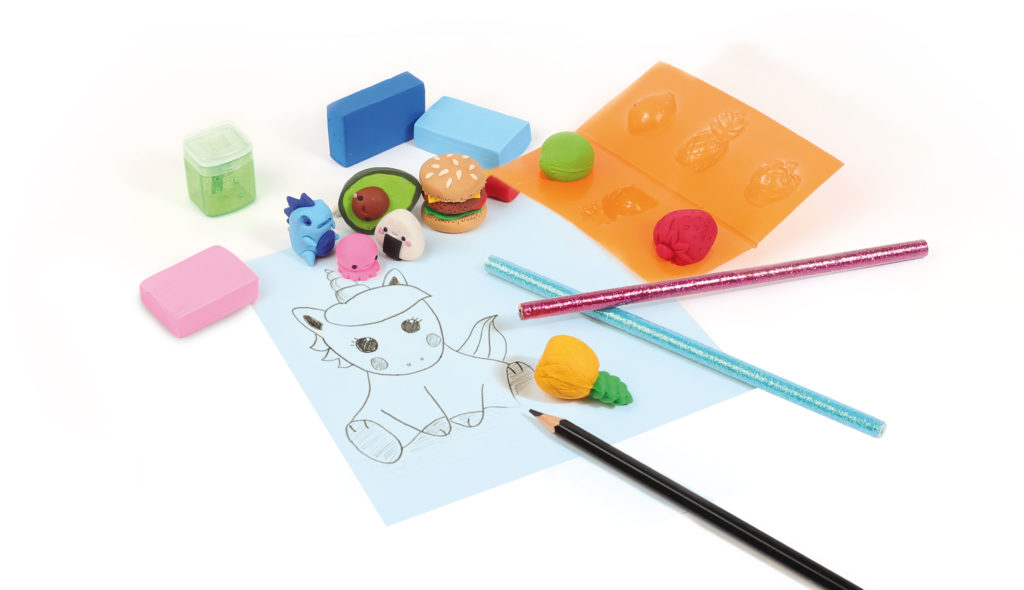 To create his eraser clay? It's easy. Just mix the colors, shape shapes and bake them in the oven with your parents for 15 min at 120 °. Tadaah! Kids get unique and amazing gums!
The PATAGOM was awarded the 2019 Innovation Award in the "Product of the Year" category at the International CREATIVE WORLD Fair.

The Graine Creative team wishes to thank Marilyne  (Her page on Instagram) and Mathis for their welcome and sympathy!
*************
Try it, have fun, share and remember … we all have talent!
Graine Créative Seed is a specialist brand of creative leisure that innovates and surprises every day with new DIY ideas in the trend.
Ideas, inspiration, creations with Graine Creative on Facebook, Instagram, Pinterest.
From the advent calendar, to decorating my home, this year, Christmas will be creative!
Christmas decorations are always a source of inspiration for the creative. They like to receive, indulge with personalized gifts, but also decorate their interior! Graine Créative has therefore decided to accompany you this year during this wonderful period that is Christmas, for the decoration of your interior. Fill up some good ideas for your Christmas decoration, from the fir tree to the D-Day table. Not forgetting the crib or the famous Advent calendar to wait until Christmas Day. You have to play to make your Christmas decoration!
My Personalized Advent calendar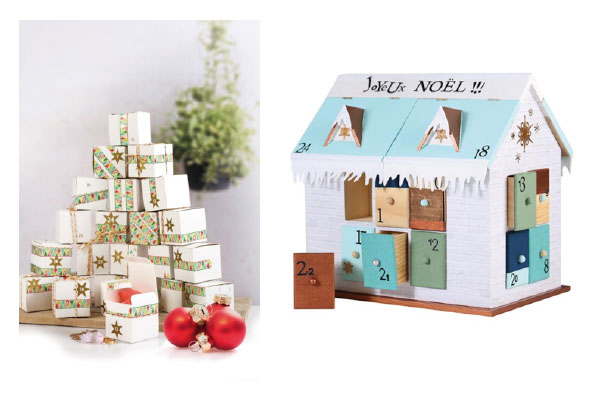 Why not make your own advent calendar 2018? Advent calendar in wood or soft cardboard? Graine Créative allows you to free your imagination in order to create the most beautiful calendars, and good news: there are for all tastes!!! We have selected for you 2 beautiful ideas that will inspire you to make your advent calendar. Making them is an easy and fun task for adults and children alike. Realize them alone or with the help of your little piece, and teach him the value of the objects that one realizes oneself!
Our first Advent calendar is a pyramid calendar, which is part of one of our customization kits. It consists of 24 cubes to decorate, a masking tape, 24 digits Peel Off's, and 10m of gold fantasy string.
The wooden advent calendars can be decorated with paint, masking tape, stickers.
My Christmas crib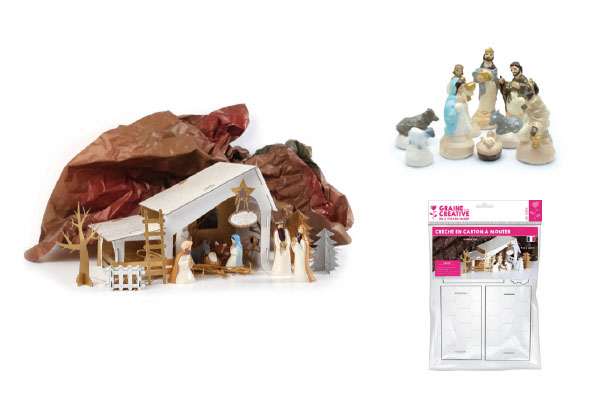 Decorating the crib is a must-have Christmas tradition to make with your family! Decorated in the smallest detail, this beautiful crib is made from a cardboard base forming the walls and the roof, to climb oneself. Then, Graine Creative proposes two differents models of Christmas crib figure to complete the crib: one more traditional, and the other more modern and minimalist.
Little tip: Have fun to decorate your crib with things to find in nature such as pebbles, Moss, branches, your crib will be more beautiful!
My Pretty custom Christmas table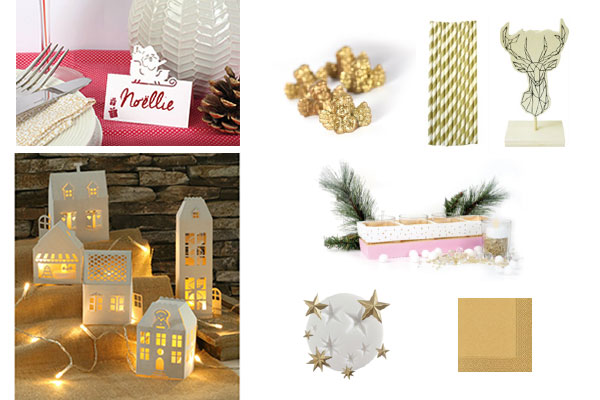 Creating a nice table decoration for Christmas is an art! Table Plan, menu, Mark-squares, table linen, crockery… Make a dream decor to receive your guests as it should be.
But what would Christmas be without its wonderful stars? To honor this idea, make your own sparkling stars with a special polymer clay mold and glitter-effect Fimo®, and decorate your home with these sumptuous decorations. They will come to finalize your table decoration beautifully!
A few other simple tricks, like a pretty verrines painted and decorated with masking tape or a personalized place brand, which can immediately create a festive and warm atmosphere. To illuminate your table, we offer our cottages in Kraft paper, embellished with light garlands, guaranteed cocooning effect!
My interiors decorations for a natural Christmas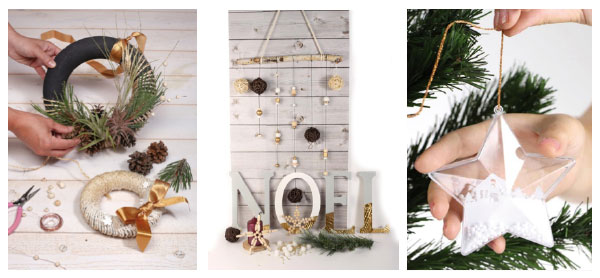 Why not combine this year's creativity and nature? This year the trend is at the recovery ' and at the DIY, which allows everyone to create at home a personalized Christmas decoration while giving free course to its creativity. The opportunity also to share moments with your children through DIY fun and simple to achieve. Twine, branches, wood, bread apples, beads, everything is allowed to create the most original decorations!
Adorning its front door with a Christmas wreath is a true tradition, you are then offered to make it using a polystyrene ring, branches of FIR, string, ribbon and paint.
To lay on your fireplace or on a table, the letters "Christmas" wooden are also customizable to infinity here, we opted for metal to repel, and paint with metal effect. The top mobile is composed of a branch of driftwood, sisal balls, painted wooden beads.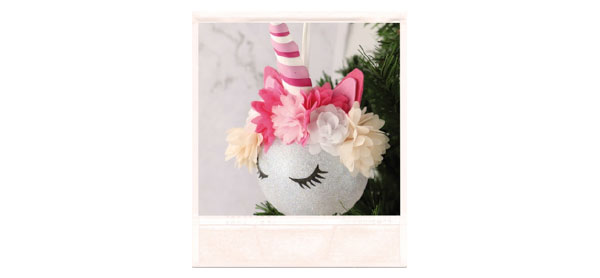 What about the tree? Find a selection at the Graine Créative of crystal Christmas balls with multiple shapes to personalize: gout, fir, Santa Claus, Snowman, Sphere, Hearts. On these crystal balls everything is possible: Paint, FIMO® to Accessorize, glitter, stickers, polystyrene balls to be placed inside for a snow effect… The possibilities are multiple!
Now it's time to wait until December to start the countdown before D-Day and take full advantage of these decorations. Good creations and most importantly, have fun! And if you realize one of these DIY do not hesitate to tag us on the networks, we love to discover your creations!
#OnaTousduTalent #grainecreative
*************
Try it, have fun, share and remember … we all have talent!
Graine Créative Seed is a specialist brand of creative leisure that innovates and surprises every day with new DIY ideas in the trend.
Ideas, inspiration, creations with Graine Creative on Facebook, Instagram, Pinterest.
To make beautiful masks in the rules of art, it is necessary to devote time and precision. Creative seed opens the doors of its manufacturing workshop, where each piece is worked by hand and with the help of our machines. All our masks are conceived, created and manufactured at DTM according to meticulous know-how, and especially with love! Know-how, quality and authenticity are the words of the order of this production workshop. To better understand this mysterious process, Sophie invites us behind the scenes of making these wonderful masks!
How to make a fabulous mask step by step?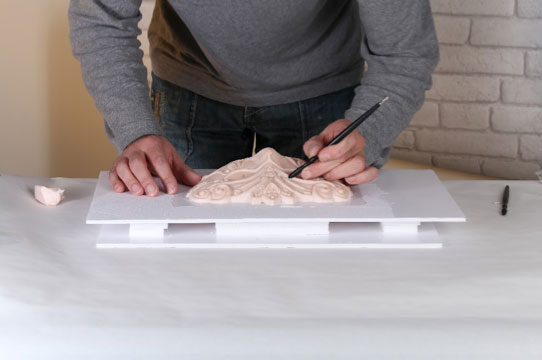 1- Our graphic designer, Chloe, draws each model, and then models each of the masks by hand. The models and the technical files are then validated and sent to our production workshop to start the manufacturing.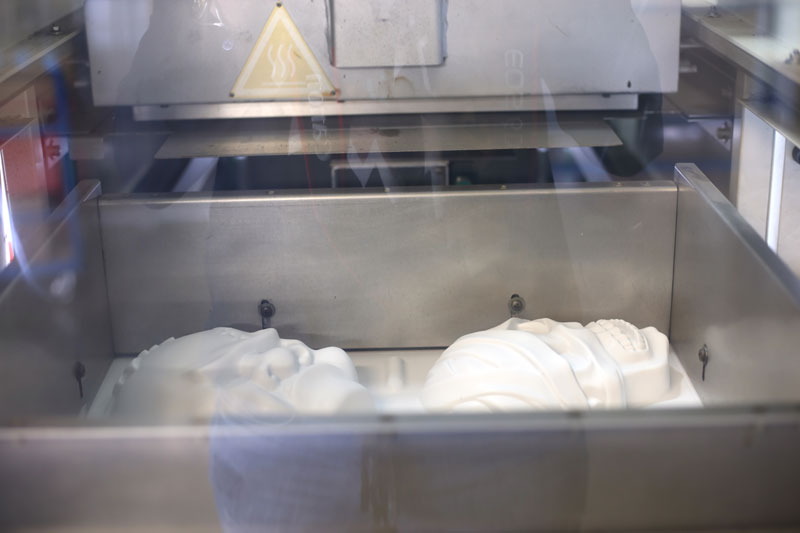 2- Each piece is programmed manually on the machine by the collaborators for each new mask arriving, depending on its shape and its specificities. Then they place the material to be shaped.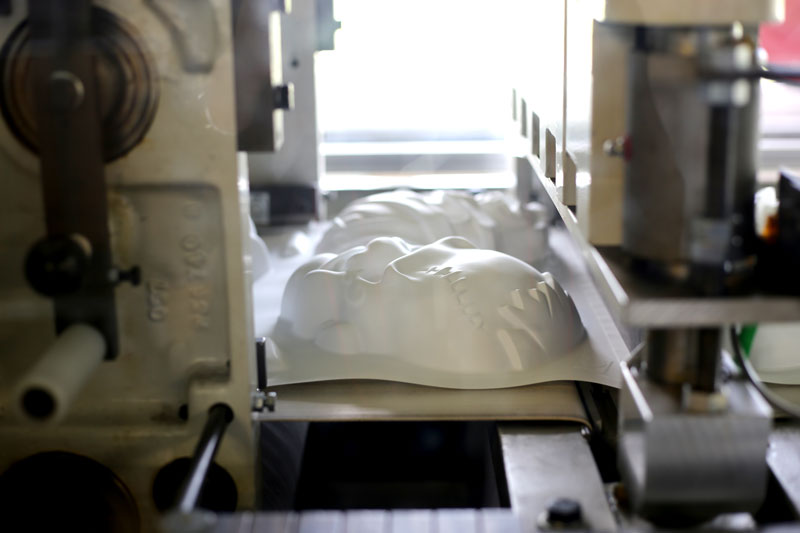 3- The cutting of each part is carried out by the roller press using a template delimiting the pattern. Every gesture of Sophie and her team require extreme precision, otherwise the mask would be distorted. Some models should be taken back to the réfilatrice for accuracy when cutting.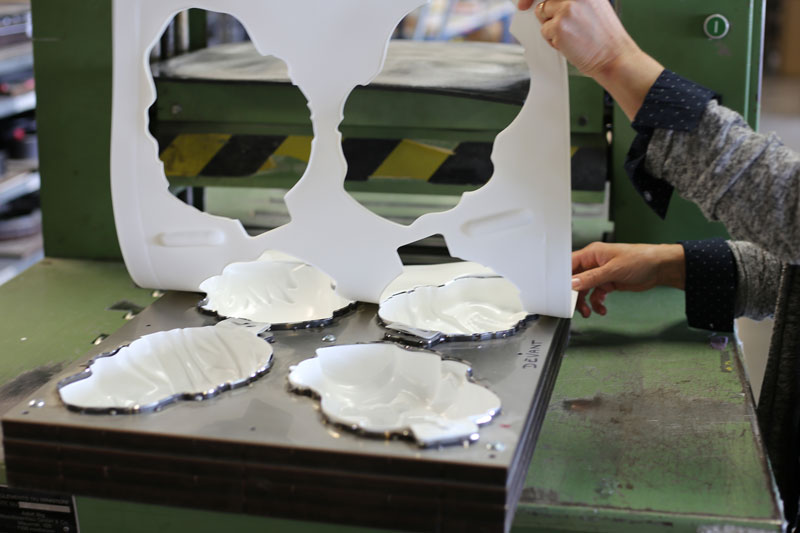 4- Cutting done, you must now remove the falls from the sponsorship! Parts must be carefully cut and removed from their plates to avoid defects.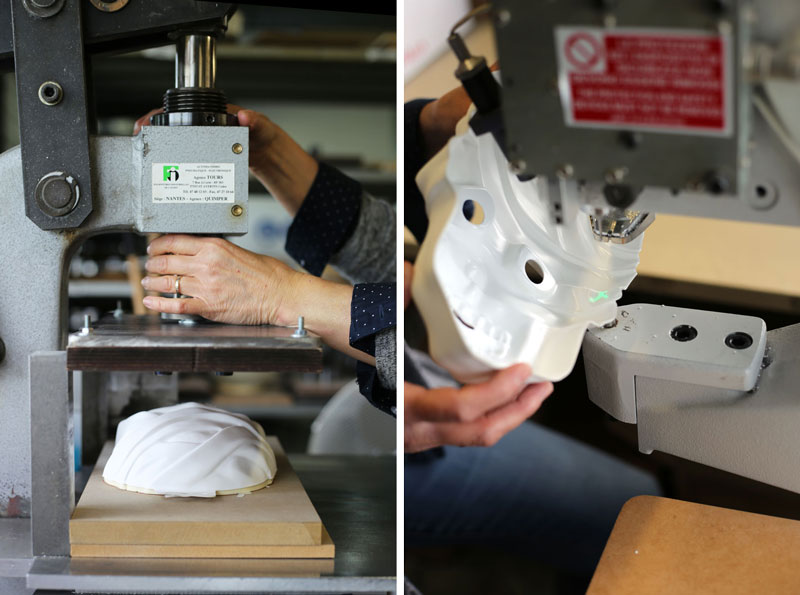 5- Sophie now comes to adjust the machine manually, then carefully and symmetrically cut the eyes. Finally, it pierces the holes for the elastics.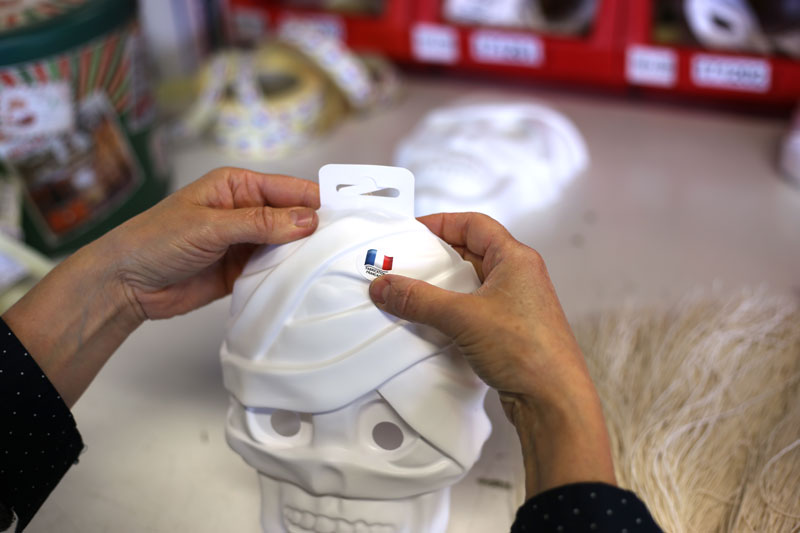 6- Sophie performs a final quality control and can now deposit the barcode and French manufacturing labels. The masks are then put in cardboard and ready to be shipped all over the world!
After a little staging full of love on another model, here's the result!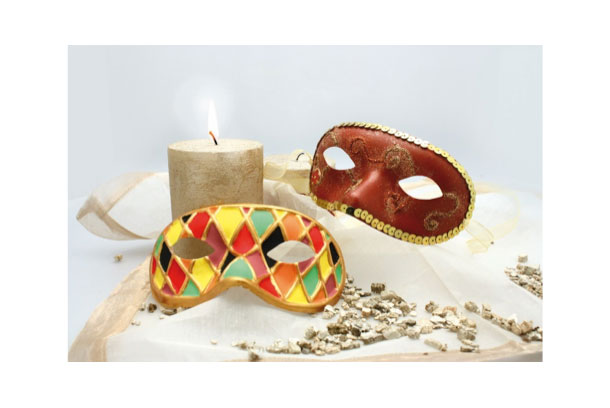 INTERVIEW.
10 questions asked of Sophie, specialist in the manufacture of masks at DTM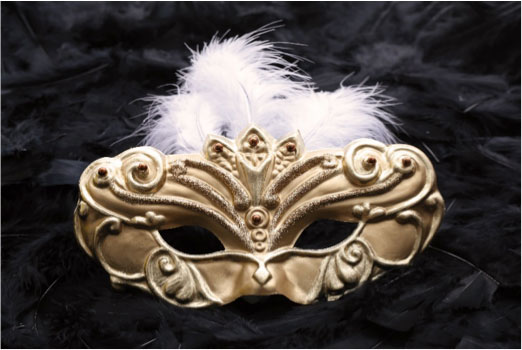 Manufacturing
1) How long does the process of making a mask take? Each mask is made by plate, so it is necessary to count between 45 seconds and 1 minute per plate of masks. Or 110 masks created in 10 minutes.
2) The manufacture of masks is a real know-how, what do you think are the main human qualities to create pretty masks? First of all patience (laugh), because all masks require a different mold and tools, as well as a new setting to be programmed on the machines. But above all a lot of precision and know-how.
3) What is the thermoforming technique? Thermoforming is a technique which consists in taking a material in the form of a plate, heating it to soften it, and taking advantage of this flexibility to put it in shape with a mold. The material hardens when it cools, and keeps this shape.
4) Is it the same person who realizes this whole process of manufacturing? The same person does the entire manufacturing process, but we are three to work at the workshop.
History
5) Since when does this activity take place in the company? Since 25 years, almost since the creation of the brand.
Material
6) What makes you different from the other masks sold on the market? What's special about them? Our masks are of very good quality, they are untearable, and are covered with a special paint to allow a better adhesion of the products added afterwards (paint, pencil, felt…).
7) In what matter are they made? Our masks are made of PVC, with a special coating for a better adhesion of the products.
Design
8) Where does the design of each model go? Each model and its tool are first created by our graphic designer, and then sent to the workshop to start manufacturing.
1) Are there standards to be met? Of course we must comply with the EC standards, especially for the safety of children.
A big thank you to Sophie for allowing us to know more about this real know-how that is the manufacture of the DTM masks.
*************
Ideas, inspiration, creations with Graine Creative on Facebook, Instagram, Pinterest.
The FIMO® Effect is perfect for reproducing stone effects and creating very fine jewelry. The crystals are patterned with translucent breads and quartz effects and then shaped using a blade. The jewels, developed by Graine Créative, enhance the crystals and bring a chic touch!
The necessary equipment for this DIY:
FIMO® Effect translucent pink and quartz blue
Silicone modeling mat
Jewelery findings
Cutting blades and finishing lacquer
Try it, have fun, share and remember … we all have talent!
À l'occasion de notre nouvelle collection estivale, on est ravi de vous présenter « Ninja », le petit chat imaginée par MissCréatives, célèbre créatrice notamment connue sur YouTube, réalisé en partenariat avec Graine Créative et FIMO®. Revivez en vidéo la folle journée de Maeva dans les locaux de Graine Créative en région parisienne !
VIDEO. Le making-of de Ninja, le chat de MissCréatives
Ninja, en images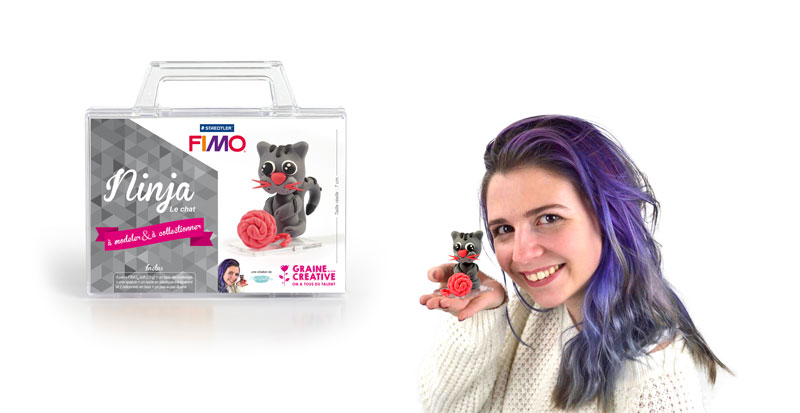 Toute l'équipe Graine Créative tient à remercier Maeva, aka MissCréatives, YouTubeuse addict à la FIMO® et au DIY, qui rassemble aujourd'hui plus de 240 000 fans. Pour les curieux, rendez-vous sur sa chaîne YouTube.
*************
Des idées, de l'inspiration, des créations avec Graine Créative sur Facebook, Instagram, Pinterest.
As the summer holidays approach, the bodies will begin to discover themselves on the beaches. Here is the solution that will bring the final touch to your "beach body" : the temporary tattoo!
A real tattoo is a great personal decision and expensive. So we found the solution to stand out … at a lower cost. Here are some tattoo ideas to brighten your summer vacation!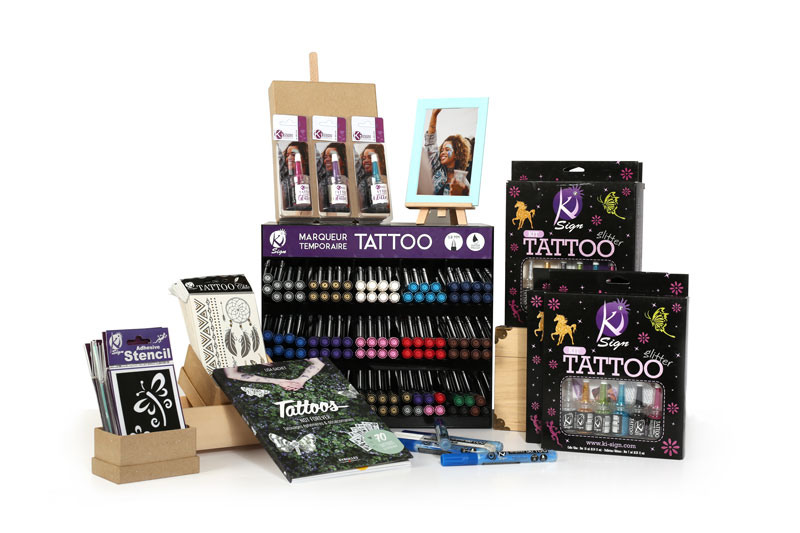 The totally magic girly tattoo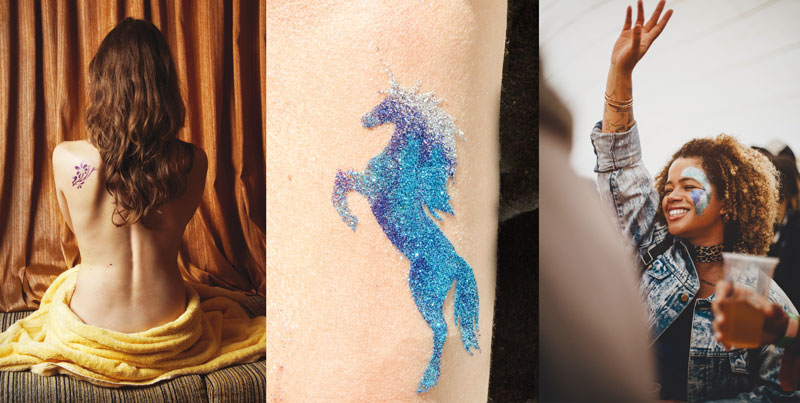 DIY tutorial: the glitter girly tattoo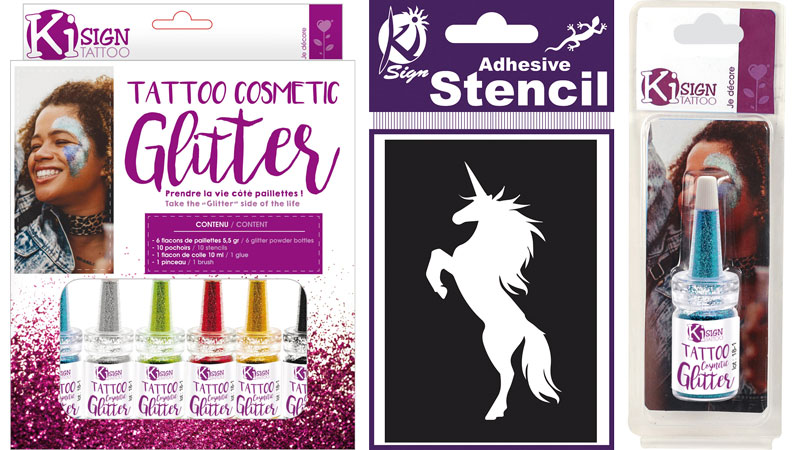 Using a stencil and cosmetic glue, a pattern is made on the skin. Then sprinkle the glitter gently on the pattern, possibly with a degraded effect and spread with a brush. The tattoo can be applied to felt or glitter.
The tattoo will last between 2 to 5 days, enough to shine as a holiday at the seaside as a beautiful summer evening!
The ephemeral chic tattoo to start a conversation
Ki Sign « Dreamcatcher  » – 194679
© Instagram: @lauraaward https://www.instagram.com/p/xnkNjdq_Lq/?taken-by=lauraaward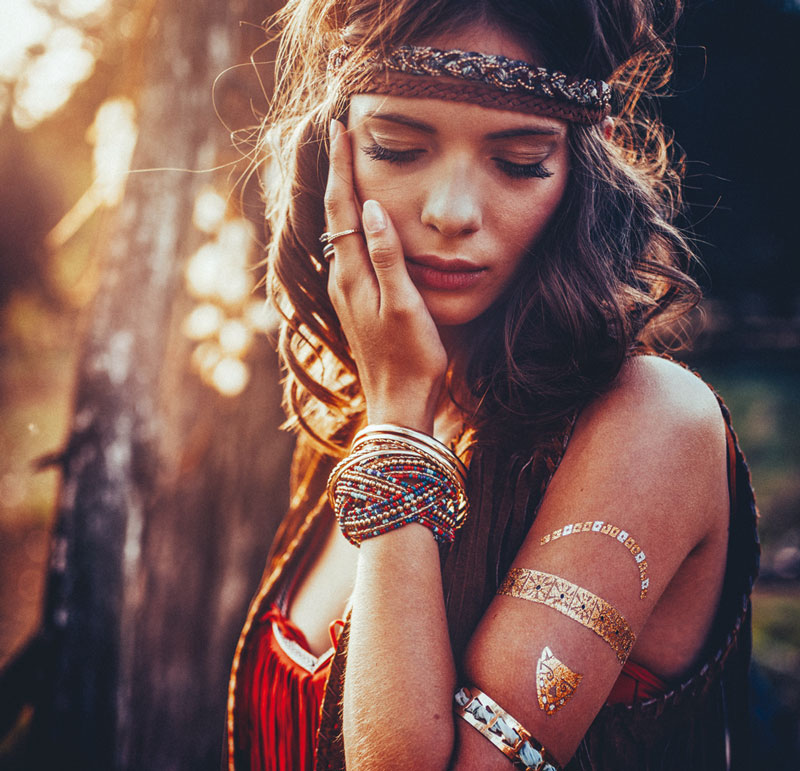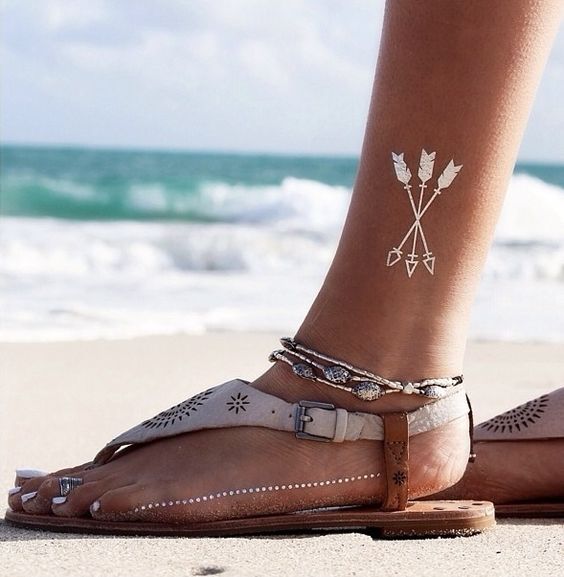 Ki Sign « Apache » – 194712
© Pinterest : Nadège Azmi https://www.pinterest.fr/pin/418482990353158337/
© Instagram: Sarah Modee https://www.instagram.com/p/7bV9JCIo0R/
DIY tutorial: the chic tattoo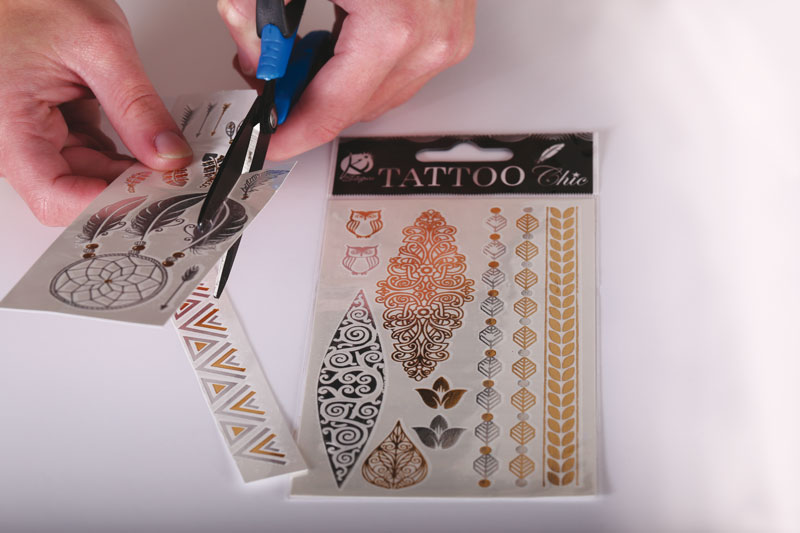 Clean, dry the skin and cut out the pattern of your choice. Remove the plastic film.
Place the tattoo pattern facing the skin, moisten the paper on the back. Then gently remove the corner of the paper.
Check if the pattern is attached to the skin, otherwise moisten and press again.
To remove the temporary tattoo, preferably use a washing cream or baby oil, then rub.
The temporary marker tattoo to share with your BFF
We all have this best friend in the world. This unique person with whom we can stay on the phone for hours, share his best laughs and his biggest sorrows. Nothing better to honor this precious person than to share a tattoo on the same vibe!
The mysterious tattoo
© Instagram: @littletattoos https://www.instagram.com/p/BZRqAW3hExn/?tagged=bfftattoo
DIY Tutorial: The Temporary Marker Tattoo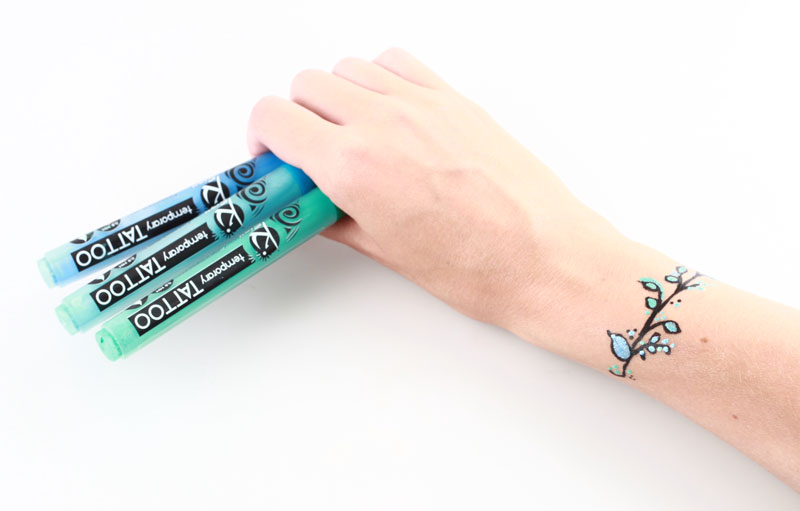 lean and dry the skin beforehand.
Freehand, draw the desired pattern with the tattoo marker Ki Sign.
Cover with talcum the area drawn and rub lightly.
Remove excess powder with a tissue.
To optimize the performance of the tattoo, spray lacquer 30 cm from the skin.
Let dry. The tattoo should hold about 1 month.
To remove the temporary tattoo, use baby oil and rub.
Check out our new tattoo selection: « TATTOO IS AN ART » !
*************
Ideas, inspiration, creations with Graine Créative on Facebook, Instagram, Pinterest.
L'effet mokume gane est une technique de modelage simple et efficace pour créer une déco bluffante !
Le matériel nécessaire pour ce DIY :
– 1 récipient métal
– 3 pains FIMO® Soft blanc
– 1 pain FIMO® Soft sahara
– 1 pain FIMO® Effect or métallique
– 1 pack de feuilles de métal Cuivre FIMO®
– 1 pelote de 5m de Suédine
– quelques perles de bois brut (2mm)
– peinture acrylique or et cuivré
Pour emmener cette idée partout, tout le matériel est disponible dans le kit Atelier modelage "Ma suspension en Mokumé Gané"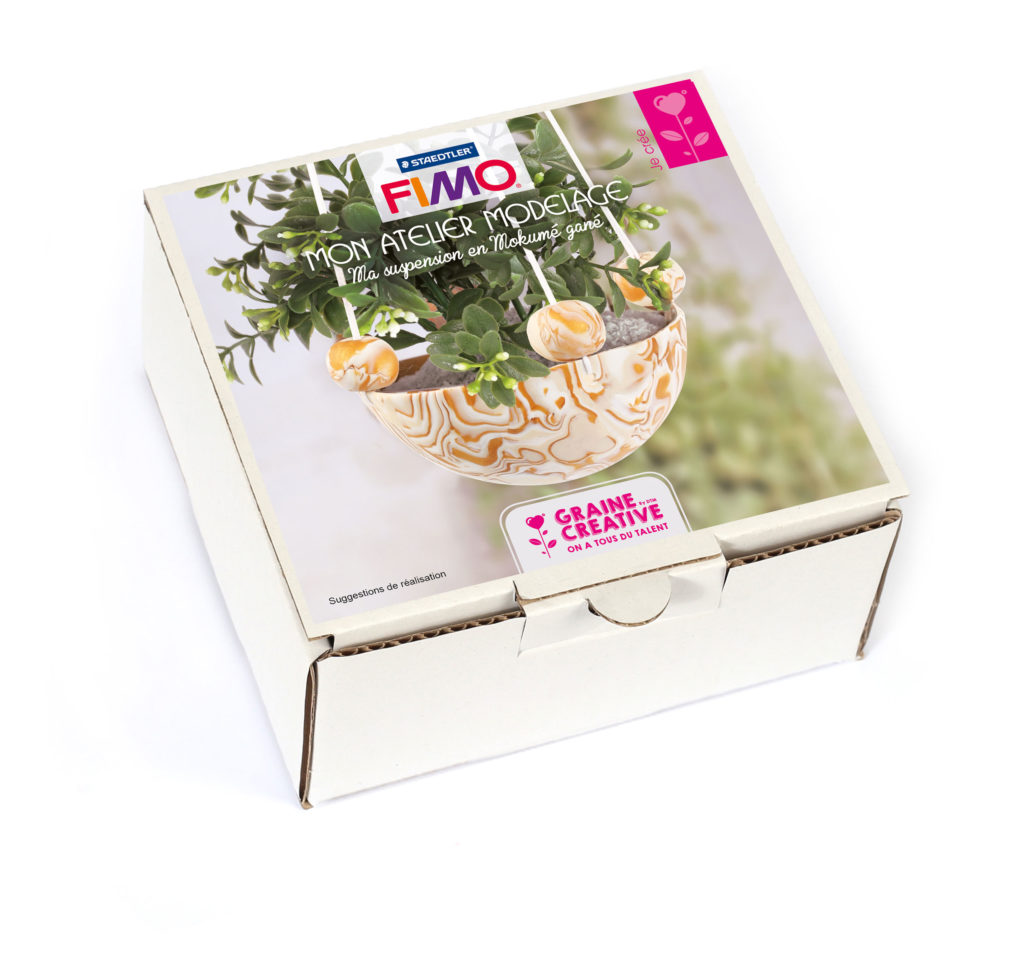 Testez, éclatez-vous, partagez et n'oubliez pas… on a tous du talent !
The festive season is the right time to let your imagination speak and compose the decoration of your desires using handmade creations! Here's our favorite DIY gifts and decoration ideas for this winter !
As we are approaching Christmas… We love this time of enjoyment and chill. So get your favorite plaid, wake the chimney and let yourself get carried away by these inspirations to end the year on a high note!
#1 Celebrate Christmas with nature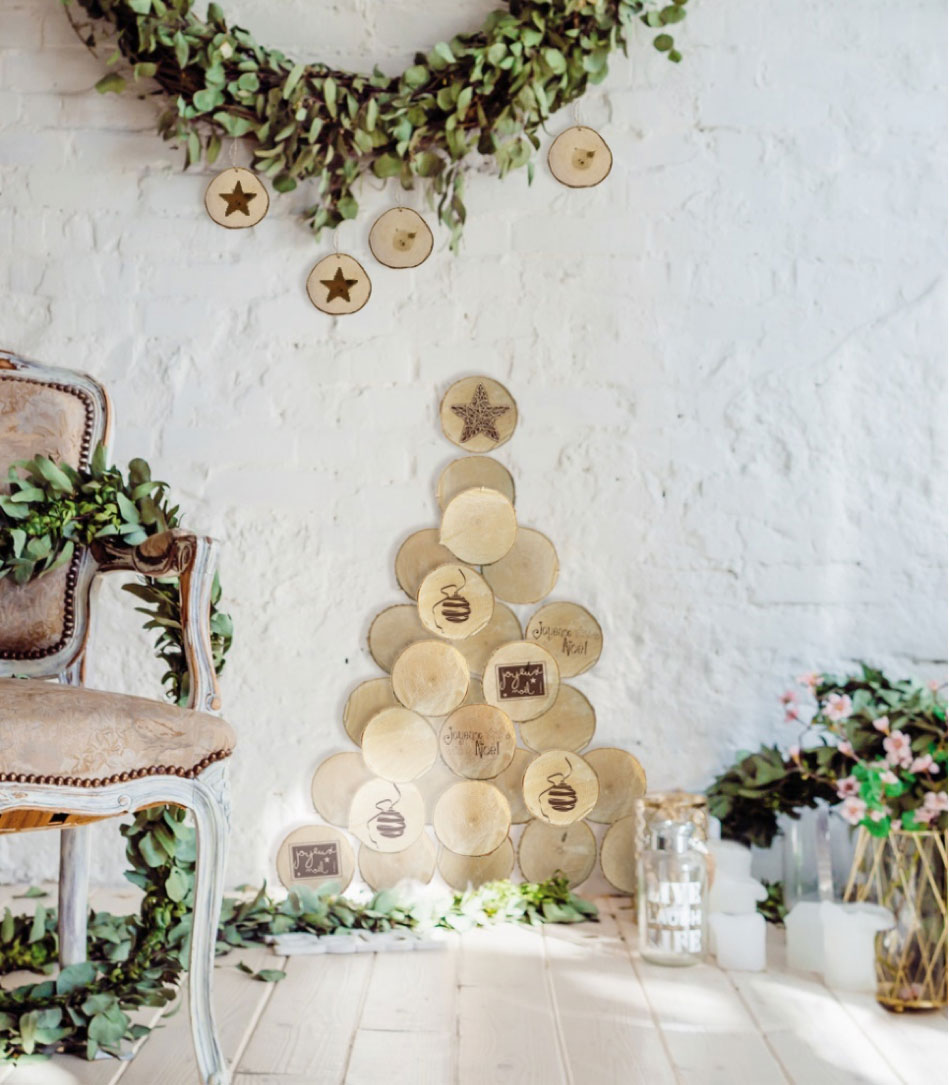 The natural materials bring tenderness to interior design. A beautiful Christmas DIY with wood washers decorated using pyrography. Here's a different Christmas tree! (ref. 107580, 107581)
#2 Shape a FIMO© Christmas tree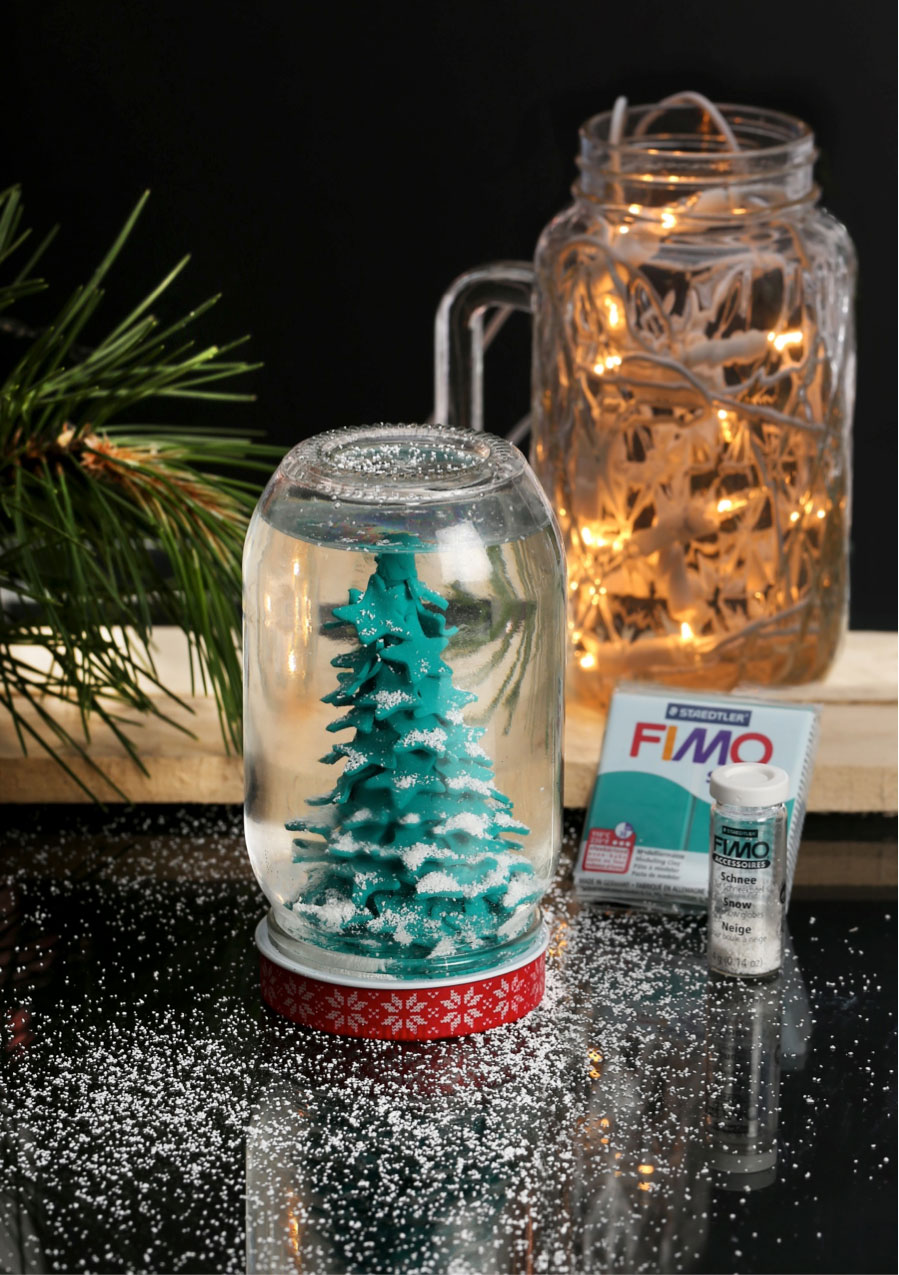 If your traditional Christmas tree feels a bit lonely, make him a miniature companion 100 % made of FIMO® clay. Take a little jar, add a little bit of FIMO© snow and it's done ! (réf. 263115, 168002)
#3 Create a hygge vibe with String Art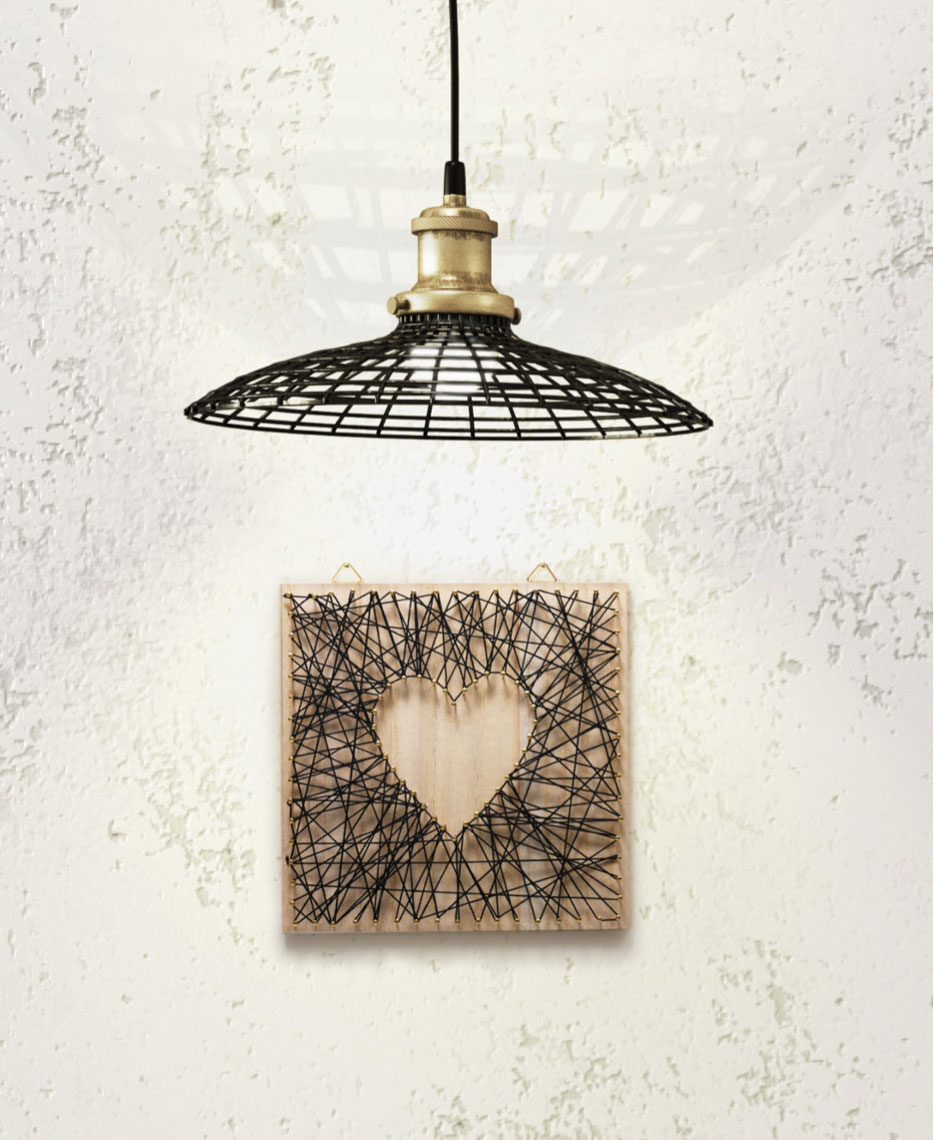 This DIY mixes creativity and nature. String Art is really simple! To get a cocooning decoration, you only have to stretch thread between a few nails. You can hang your creation on the wall to bring the best out of winter. Your decor is now ready! (ref. 100655)
#4 The Christmas crib, a nice tradition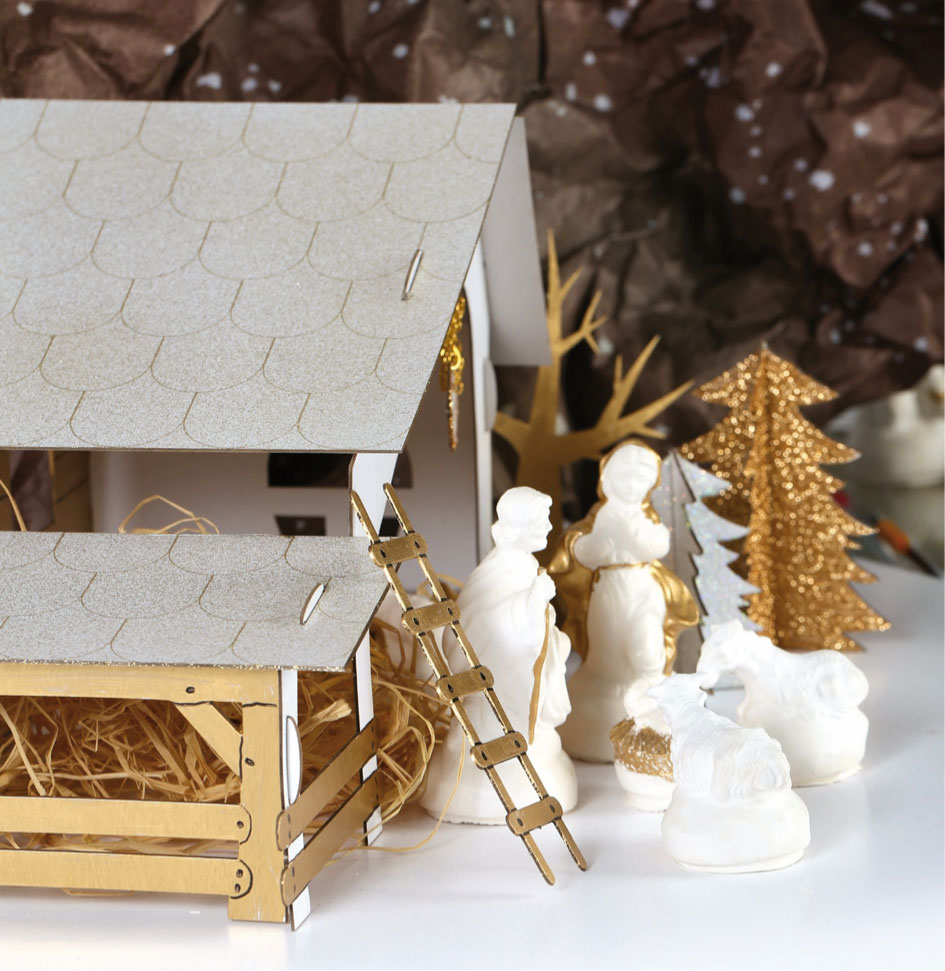 If you love setting up a Christmas crib, you still can build and customize this handmade crib. There's a thousand way to imagine this tradition before it's ready to welcome its little characters. (ref. 224322)
#5 Create your own Christmas balls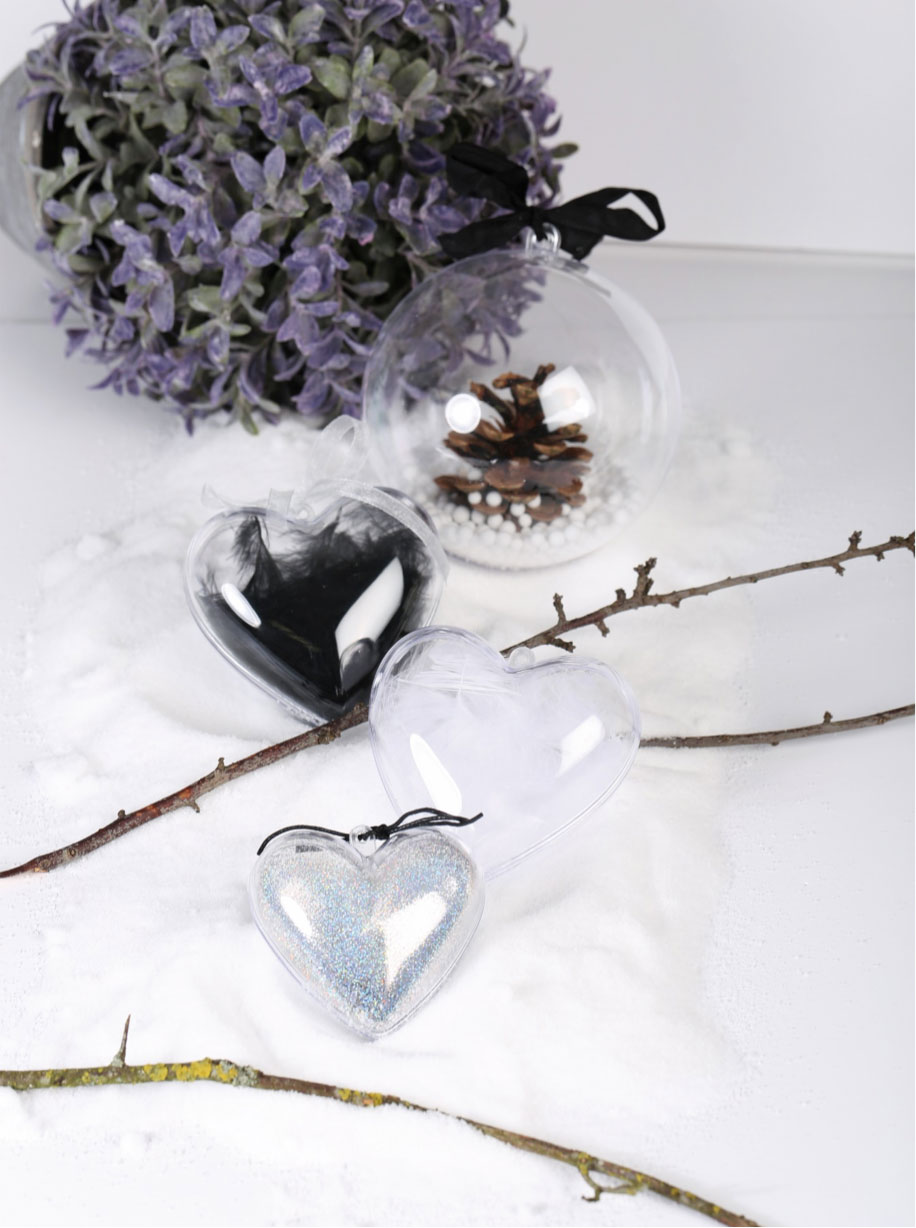 A nice alternative option to the classic Christmas balls. Customize some sheer Cristal balls with glitter and feathers to offer an authentic charm to your Christmas decoration.  (ref 579020, 579021)
#6 Embroider your cocooning interior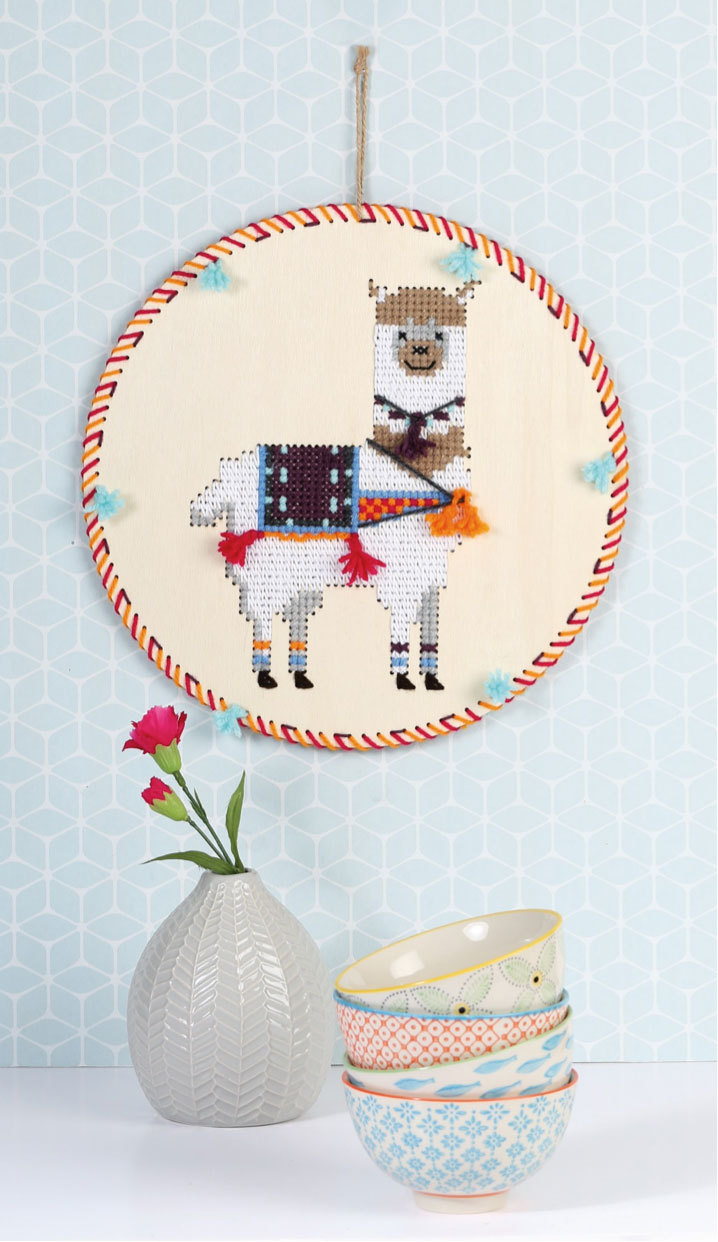 For Christmas decoration or the whole winter, the lama will warm your home to open a chill atmosphere! Pick your design and colors and then get started with this embroidery handiwork. Comfort and relaxation await you. (ref. 100678)
#7 Create a unique and gourmet Advent Calendar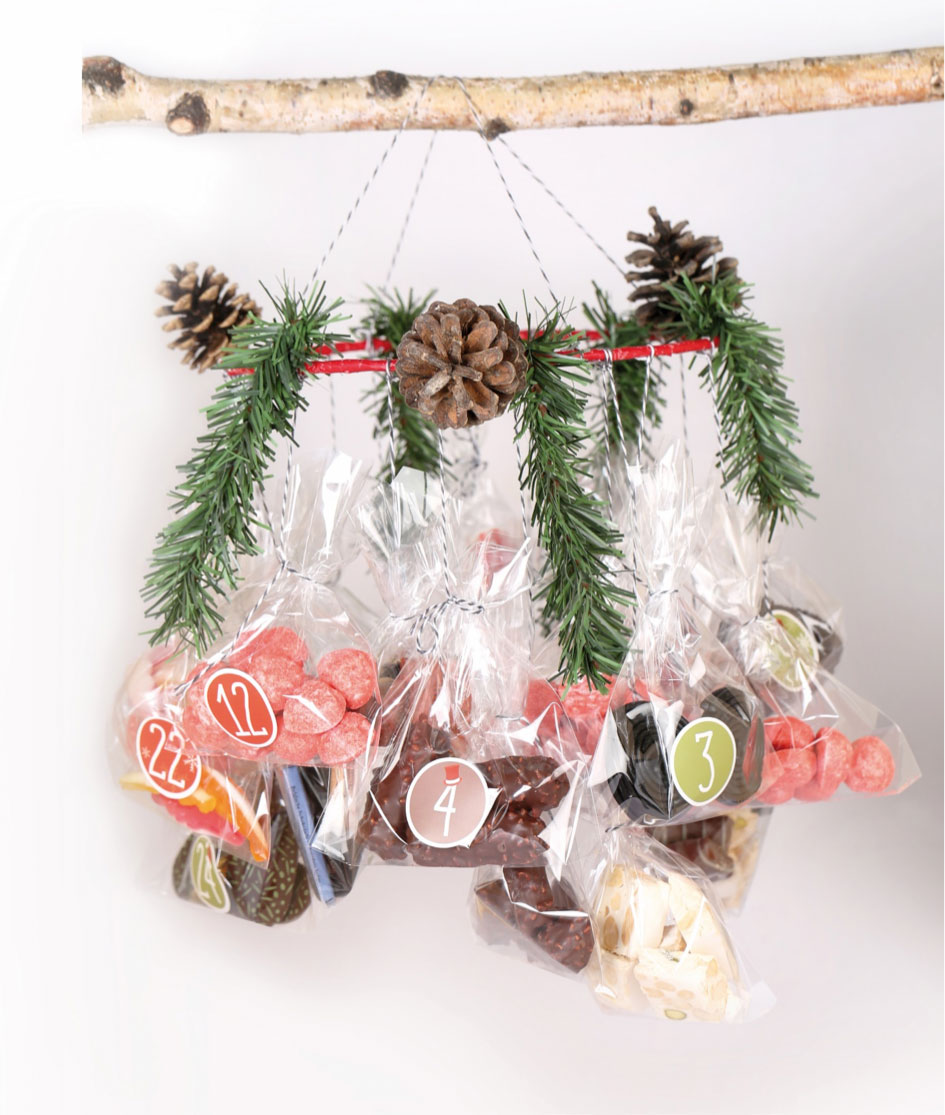 A few bags filled with your favorite treats can be a good start to a beautiful home feel.  Start the countdown to wait until Christmas Eve! (ref. 518240)
#8 Shape some high-flying FIMO® suspensions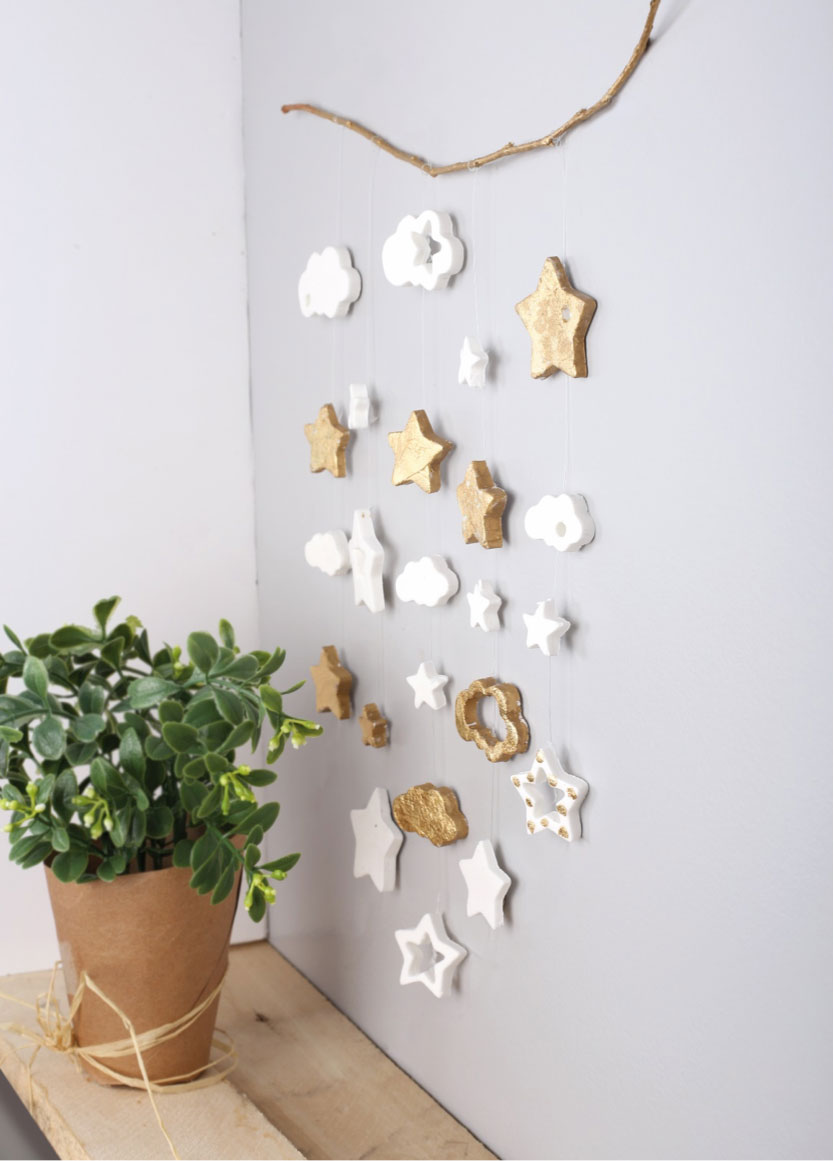 These bohemian-style shaped stars and clouds can be hung anywhere. On your Christmas tree or the window, for example, it brings a graceful and airy to your interior. (ref. 266253)
#9 Hang some hand-casted suspensions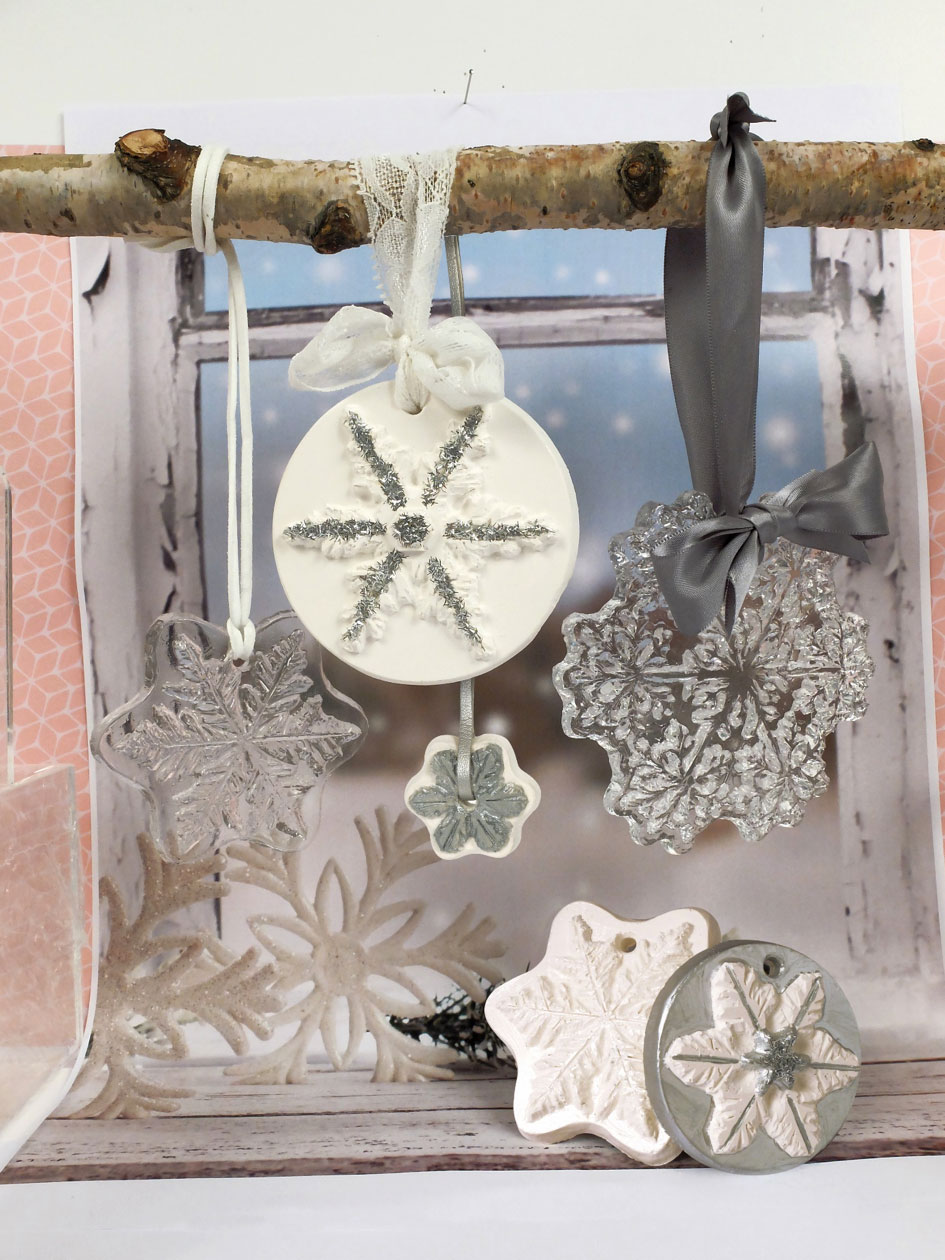 A fairy tale atmosphere takes hold of you thanks to these hand-casted Christmas decoration! First, pick your thermoformed mold (on this pic, flake – ref. 271301) suitable for plaster molding, cold ceramic powder, resin and… soap! For your home, this suspensions is the icing on the cake: Christmas magic happens!
#10 A nice table set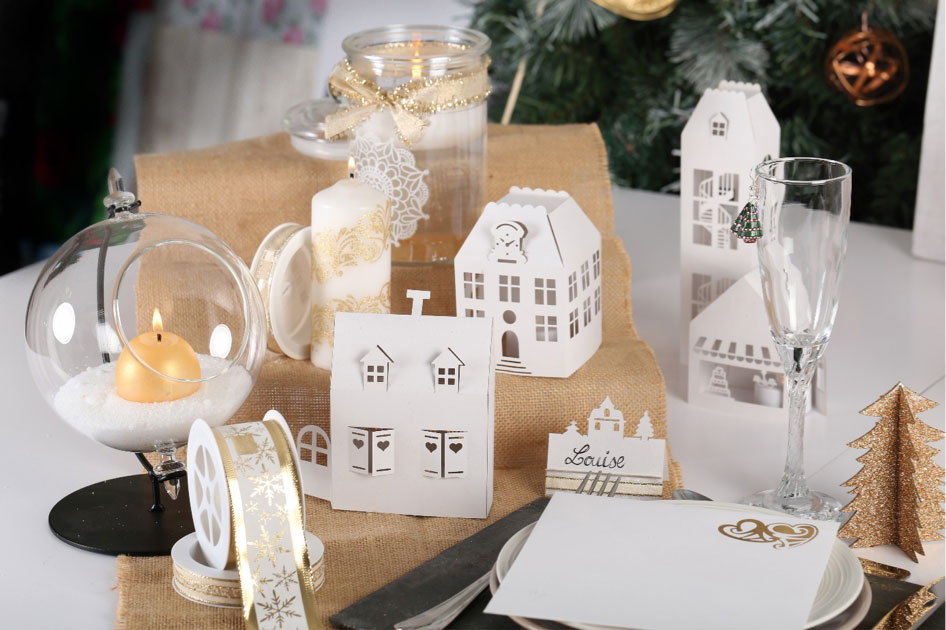 To brighten your Christmas Eve table, pull out your prettiest plates and welcome your guests in a shiny universe. The tiny houses and (ref. 224320) and place cards (ref. 224333) are precut for an easy montage and a chic result.
Find more DIY gifts and decoration ideas on Pinterest with the Graine Créative Christmas pinboard. Meanwhile, Graine Créative wishes you a Merry Christmas and a Happy New Year!
"Christmas is not a time nor a season, but a state of mind. "
Calvin Coolidge.