À l'occasion de notre nouvelle collection estivale, on est ravi de vous présenter « Ninja », le petit chat imaginée par MissCréatives, célèbre créatrice notamment connue sur YouTube, réalisé en partenariat avec Graine Créative et FIMO®. Revivez en vidéo la folle journée de Maeva dans les locaux de Graine Créative en région parisienne !
VIDEO. Le making-of de Ninja, le chat de MissCréatives
Ninja, en images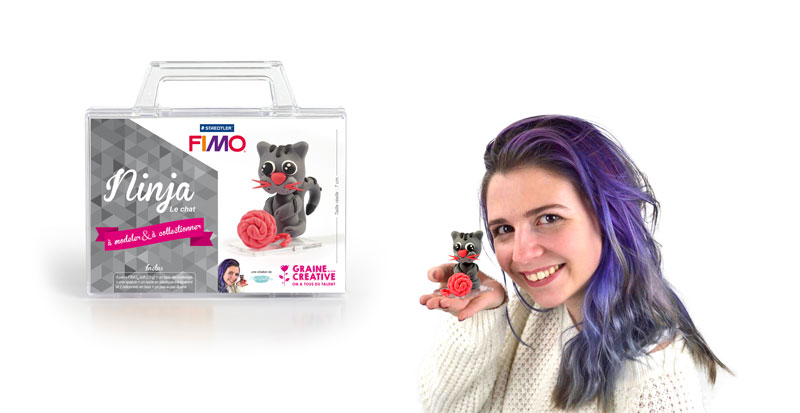 Toute l'équipe Graine Créative tient à remercier Maeva, aka MissCréatives, YouTubeuse addict à la FIMO® et au DIY, qui rassemble aujourd'hui plus de 240 000 fans. Pour les curieux, rendez-vous sur sa chaîne YouTube.
*************
Des idées, de l'inspiration, des créations avec Graine Créative sur Facebook, Instagram, Pinterest.
Dear DIY fans, the FIMO clay welcomes you in every newsstand for the new collection you won't want to miss : Easy Creations with FIMO clay in partnership with Hachette !

Fill up your  inspirations with the FIMO® collection
Every week, find a booklet with fashion or decoration tutorials. All the necessary material to create the flagship creation of the week. The beginners will discover step-by-step illustrated methods. The experts will perfect their techniques and to fill up with new ideas!
So, to learn more about the FIMO collection and the exclusive gifts for subscribers, visit www.collection-fimo.com, furthermore, join the community on Facebook and Instagram.