As you know, we love to share with you the backstages of our workshop, it makes us feel like you are there, with us ☺️
Based in Preuilly-sur-Claise (37), it contains a whole universe that resembles us. We know you love anecdotes… Did you know that the candle is one of Graine Créative's historical products ?!
The initials of the company DTM (one of the entities of the Graine Créative group before the merger) actually alluded to "Devineau Travaux Manuels", one of the activities of the famous candle brand for schools. The candle has managed to make a place for itself and to cross the (many!) years, to become now accessible to everyone and a trend on fire (funny for a candle…!).
Our candle-making workshop in all this?
It's nice to go behind the scenes of a workshop, isn't it? Follow me, I'll show you around! (respecting the social distancing obviously 👀).
For starters, we have a special "moulds" corner. We make two types of them:
Thermoformed moulds
Latex moulds
Simply put, thermoformed moulds are suitable for simple shapes with a relief on one side and a flat base on the other (a cone for example).
With this kind of mould, you need to be able to slide the result out of the mould easily ! This would be impossible for more complex shapes…
But don't panic, that's precisely why our latex moulds are here ! They allow complex shapes to be demoulded thanks to their flexibility.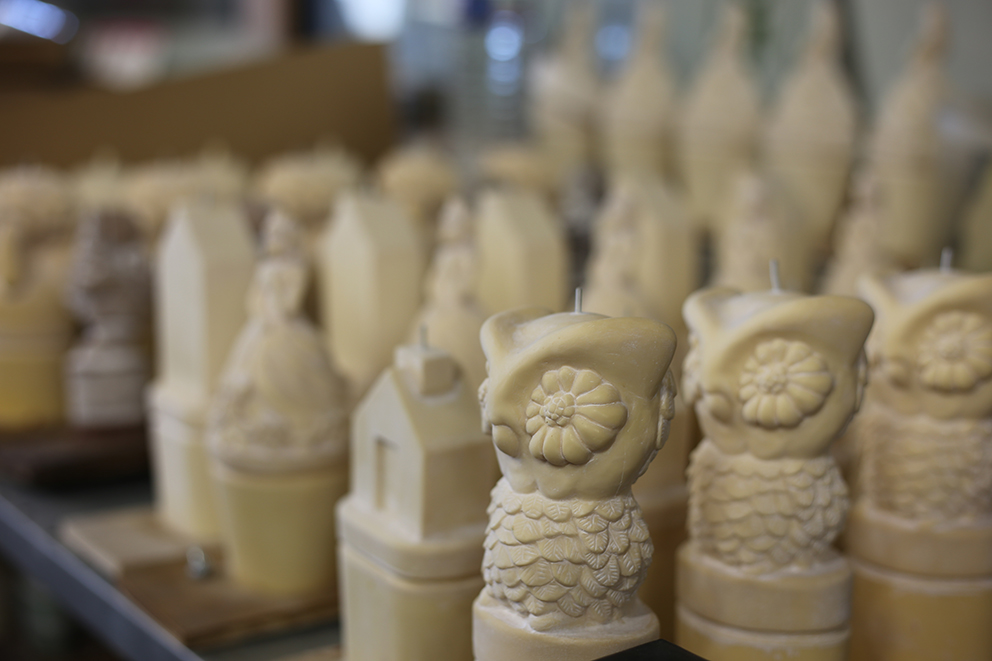 We also offer dyes that allow you to colour your candles as you wish ! There are two types of dyes, liquid and solid. This is a preference of use, they are completely miscible with each other. It's up to you to choose your favourite! In our workshop, we also have a section dedicated to our modelling wax, a wax that you can model with your hands to create candles in the shape of a character.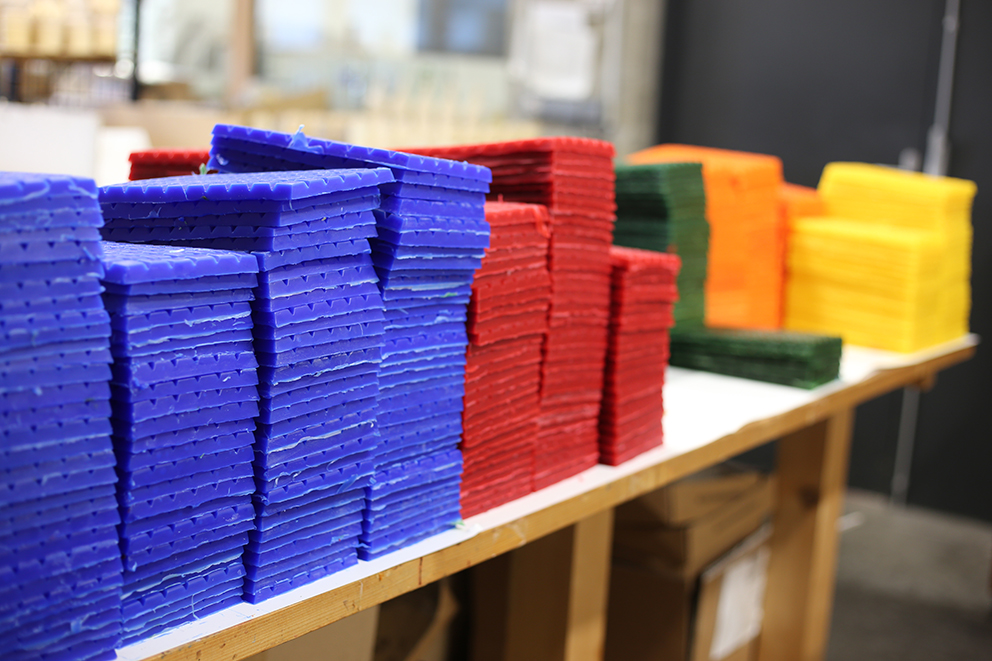 In order to reveal our manufacturing secrets to you, here are the stages of manufacture of our famous modeling wax explained by William, the person in charge of the workshop :
We melt the wax in a water bath and add the desired colouring. When we obtain a homogeneous mixture, it's time to fill the chocolate bar moulds with a ladle (but be careful, don't eat it ! * laughs*).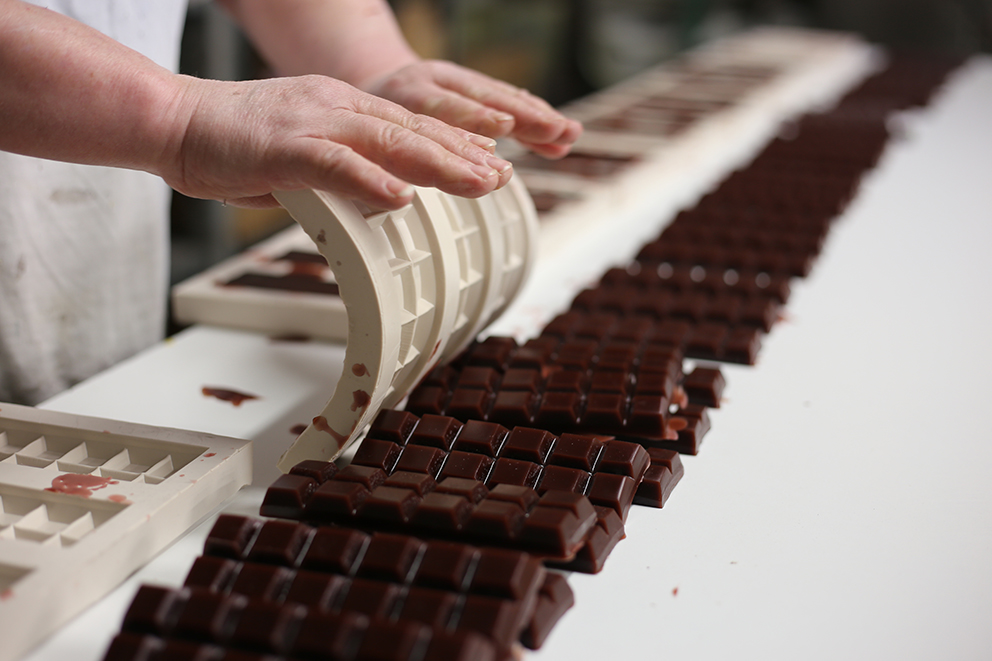 Once dry, slip it into the bags and tadaa it's ready to use !
DIFFERENT KINDS OF WAX:
To make a candle you can use different kinds of wax. Therefore, we have decided to clarify all the characteristics of the different types of wax to enable you to use them in the best possible way.
Vegetable wax
As their name indicates, the composition is 100% vegetables. As for their appearance, they have an opaque finish. They are all suitable for latex moulds, except for the frosted vegetable wax.
We distinguish three types of vegetable wax:
Rapeseed wax : Perfect for moulds ! It shrinks when it cools, allowing an easy removal from the mould. Its composition is eco-friendly. 🌿
Soy wax : Perfect for containers ! It does not shrink when it cools, this allows a perfect filling of the container in which it was poured. Its composition is eco-friendly. 🌿
Frosted and unfrosted vegetable wax : rather used in moulding. The particularity comes from the frosted vegetable wax with its … frosted aspect (that's the best way to describe it !).
Candle Paraffin
Unlike vegetable waxes, this one is rather translucent. That's why the colours obtained are more vivid !
Modeling Wax
And finally, our famous modeling wax ! Made in our workshop, we can say that it is our little baby 💕 Its particularity is due to its malleability at room temperature, which makes it an excellent modelling support for adults and children !
Here is one of our latest novelties : the kit cute Totems animals !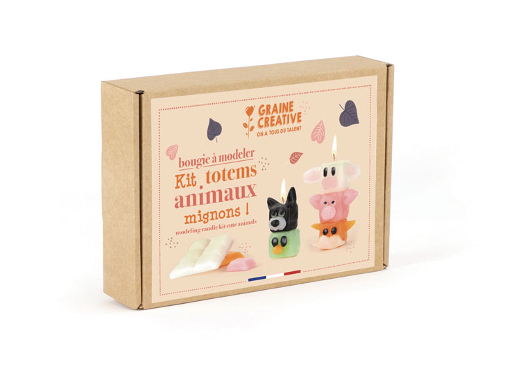 ⚠️ GENERAL TIPS :
ALWAYS melt the wax in a water bath.
Add the colouring and / or a few drops of scent once the wax has melted (do not add them while it is on the heat).
Never overheat the mixture as excess heat will cause a colour change and a risk of flammability.
Here we are, our candle range has no more secrets for you !
We hope that you have spent a good time while reading this article, we can't wait to open the doors of our workshop to you again to tell you all the nice things going on here… ☺️🌷
Find all our range of candles with this link : *Graine Creative's catalogue*